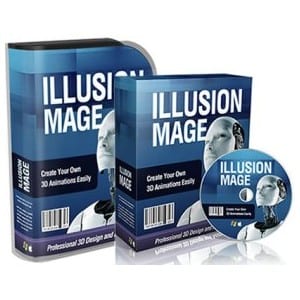 Can Illusion Mage really make a 3D designer and animator out of you? If you've ever wondered how places like Pixar or Dreamworks come up with their animations, or how high-tech the systems must be in order for them to make things like Toy Story or Shrek, then this is promising to give you a taste of it. But can something in this price category really provide anything close to professional grade results?
Overview
With the popularity of 3D games like Skyrim and other Massive Multiplayer hits like World of Warcraft, there is definitely a lot of interest in learning how to make these types of animations, either as a hobby or as a way of getting a high-paying gig as a software or game developer. Not to mention the surge of animated movies coming out of places like Disney or Fox with franchises like Ice Age.
The Claim
Illusion Mage claims that you can make 3D images and animations using their software. They say you can start animating in just 5 minutes and they'll show you what to do with step by step video instruction. They also say that this is the same software that the major studios are using, but we highly doubt that. When looking at the example screenshots of animations they've supposedly made with Illusion Mage, it doesn't look like the same quality that the major design studios are releasing out of Hollywood.
The Hype
The hype comes from the fact that the men and women behind these animated classics spent years and years tinkering and learning how to use the software. They didn't just get lucky to land a job at an animation studio. To make claims that say you'll be able to replicate their success by buying a certain piece of software or program is pretty ridiculous.
The Cost
You can get the basic version for $47, or you can upgrade for an extra $30 and get more guides and video training. They also have a deluxe package for the same price as the upgraded package that gets you one on one support and also upgrades for life.
Tip: If you try to close the window they will ask you to stay and give you a $30 discount off the upgrade so you can get the upgraded version at the basic price of $47 and still be covered by the 8 week guarantee.
The Commitment
Even though they say that they can have you up and running quickly, it's still going to be up to you how far down the rabbit hole you want to go. Learning any new skill pays off only as a ratio to how much time and dedication you put into it. If you want to get adept at using this new piece of software, you have to commit to learning how it works, including all of its features. You'd have to really enjoy the process of learning how to make characters move, and getting lost in the detail of how to raise their eyebrow to make them look inquisitive. This is not for everyone so be sure to check yourself and see if this sounds like something you can get in to.
Evaluation
It's not so much that Illusion Mage is incredibly awesome, but that they are creating a software package at a price point that most people can afford. When you look at your other options, software like Maya or 3ds Max you're looking at thousands and thousands of dollars. In this respect Illusion Mage is in a class by itself even by simply offering something that remotely works at this price.
The bonuses that are included are also something to consider. They allow you to make 2D sketches, accurately pick the exact color you want from any picture, and model your 3D animations with more ease, and even how to make simple cartoon animations easily.
Is Illusion Mage Really a Scam?
So mahy people out there are calling this a scam, but ironically most of them are affiliates that are trying to promote it on the back end. The question of whether or not it's a scam is completely obsolete because this is a ClickBank product, so you're protected 100% and you don't have to worry about it at all. If you get it and feel like it's not worth the price tag, get a refund, it's as easy as that. A scam entails getting scammed out of your money or duped into buying one thing and receiving another and we don't think they're doing that.
Final Illusion Mage Review
When you're talking about 3D animation and designing the costs can get astronomical for the software behind it. It's kind of like the price of entry into an elite club, and keeps out all of the people that aren't really seroius about learnign how to animate. At this price point it's pretty easy to see that Illusion Mage is giving you a lot of the money spent. Taking something as complex as 3D rendering and walking you through it on video as if you're staring over their shoulder is something no other company is doing right now.
Our Recommendation
All of the software that competes with Illusion Mage doesn't give you 60 days to try it out risk free. That alone gets us to recommend giving it a go. You don't get some sort of trial version with limited features, you get the full working program and can try it out as much as you want during this time. If you like it after 60 days just keep it. But if it's a total let down, ask for your money back and you'll get it.
Official Website: IllusionMage.com
What do you think? Does Illusion Mage work or not?