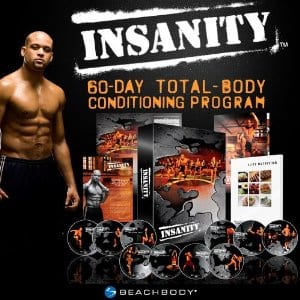 If your regular workout hasn't been yielding the results you want, maybe it's time to go insane, or get Insanity. This is a full-body workout program that takes things to a whole other level. Leave conventional programs behind and get ready to get put through the ringer, but feel like coming back for more the next day. Can a workout program with the gall to call itself Insanity really provide long term results? We're the shrink here and we'll see just how crazy this thing is.
Overview
One problem that nearly every other workout program on the market has is that after about a week or so they get boring. Sparking up the DVD and playing the same old workout routine every day or every other day gets old real fast, especially if the trainer is just a little too bubbly, or the workouts are a little to easy to perform, even when you're outpacing the instructors. Insanity is designed to break that mold, keep your body guessing, and keep you interested in continuing on through the program.
The Claim
Insanity claims to be able to re-condition your entire body in just 60 days. They say it might just be the hardest fitness program ever released to the masses. There's not too many other companies that are claiming that, deciding instead to provide workouts that are designed to get you moving and in shape, just not necessarily cut and super-fit.
The Hype
Naming your product Insanity is a form of hype. You're only going to attract those die hard individuals that want to toss out the same old workout routines and go bonkers trying to break their plateau and reach that next fitness level. It's also created a stir in the workout community, as those that have finished it say it works, and those that haven't wonder if it does.
The Cost
The total cost is $145 with shipping included. To get started it's just $65 and then 2 more payments of $40 per month. You're backed by a 60 day guarantee, so you'll definitely know if you want to keep it before then.
The Commitment
If you know anything about fitness and how the body works, you know that it will take some strong effort to retool your body in just two months time. It's possible, and Insanity can help get you there, but definitely take a moment to find your center on this one and commit to doing what it takes and going all out for the full 60 days. Basically put your blinders on to the rest of the world and don't look up until the challenge is over.
Evaluation
Shaun T is your host for Insanity, and he's also the trainer for the follow-up Asylum. He's a pretty good host, he doesn't get annoying, and he has perfect form when he shows you how to do all of the moves. One thing he is good at is moving between the different models that are showing you how to do the exercises and getting them to do it even better, or to push it even harder. If you pretend that it's you, it's like having a personal trainer motivate you directly.
High Intensity Interval Training has been shown to produce noticeable results, but it goes against the grain of conventional wisdom. It involves short bursts of high intensity training, followed by low periods, and you just keep alternating between those highs and lows. The result is that you not only burn calories in the moment, but you continue to burn them long after you're done. Compared to low intensity cardio training, where you only burn calories while you're actually doing the exercise.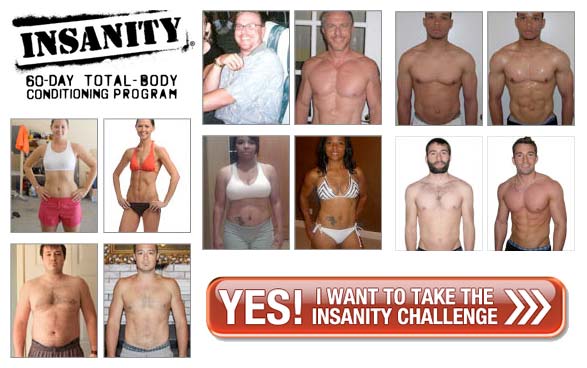 One thing we like that separates Insanity from the rest of what's out there is their Fit Test. This is a series of exercises that you do and record how many times you can do them in the allotted time period. You do this on day one to get an idea of where you're at. You don't have to hit a specific target, or judge yourself or get down on yourself for not being in shape, it's just a way to put down on paper where you're starting from, and is more effective than a before picture – but you might want to take one of those too.
At strategic points during the 60 days you'll be instructed to take the Fit Test again. If you're like me your eyes will light up when you see that you can now do more of the same exercises in the same amount of time. Sometimes the mirror lies to us, and structural changes take time to appear physically. But fitness in relation to getting stronger and increasing stamina is harder to measure. The Fit Test definitely helps keep you motivated, just keep in mind that the next Fit Test is coming up and you want to be able to perform at your best.
Does Insanity Really Work?
How could Insanity not work? The fact is, if you put in the effort and stick with it, it must produce results. Will you look like the models in the DVD after 60 days? Probably not. But you'll be in the best shape that you yourself have ever been in, and at the end of the day that's really all that counts. The problem many people have is getting a specific idea of how they'll look at the end of the program, but you should really focus on how you feel, and on what you can do that you couldn't do before. That's the true measure of success.
Final Insanity Workout Review
Insanity is that workout program that you can always come back to. If you get it and try it and can't stick with it, just hold on to it. Keep your training going and give Insanity another go in a month's time. You might have to build your way up to it, but the workout itself will never go out of style, and will always produce results when you put the time in.
Official Website: Insanity
What do you think? Does Insanity work or not?