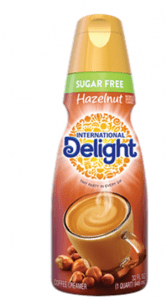 There is no doubt that there are great many coffee lovers throughout the world. It is a booming industry. Not only for the coffee itself but for the many pieces of equipment that are on the market to help make it even better. Some products that may get over looked are those that can take a plain cup of coffee and enhance it. One such product is International Delight.
Overview
International Delight is a Collection of coffee flavors that are easy to add to a cup of coffee. When doing so it can dramatically change the taste of the coffee turning it into a specialty one. Many very much like those that can be ordered at specialty coffee shops.
The Claim
The claims made about International Delight are ones that boost the quality of each and every one of the product offerings. Which there are several to choose from. The Company even claims they can offer a selection of International Delight that are Sugar free and fat free.
The Hype
The hype that revolves around International Delight is the fact that one can enjoy a cup of specialty coffee in the comfort of their own home or office without have to pay a substantial amount of money for each cup. Which is normally what happens if one is going to buy a specialty cup of coffee from a local coffee shop that provides this.
The Cost
How much you are going to pay for any one of the International Delight products is going to depend on where you buy it. It is available at several different stores like Walmart. It can also be bought online as well as Amazon.For example the International Delight Single Serve Coffee Creamers in the the French Vanilla flavor sell for $17. For 192 of them.
The Commitment
The commitment is going to be deciding on which flavor of the International Delight you want to buy. There are so many to choose from that chances are you are going to have more than one favorite.
Evaluation
International Delight is a proven product and one that has a lot of favorable feedback. For example on Amazon out of 469 reviews the one product alone has received a 4.5 star rating. Keeping in mind that some are going to prefer a certain kind over others. Everyone is going to have their favorites.
Final International Delight Review
We are going to give International Delight a thumbs up. The price is reasonable. The quality is exceptional and the choices are great. It really is convenient that one can take a simple cup of coffee and turn it into a totally new experience.
Our Recommendation
Now that you have some great choices like International Delight for stepping your coffee up a notch you may want to check out some of the great coffee accessories that we have talked about for your coffee preparation.
What do you think? Does International Delight work or not?