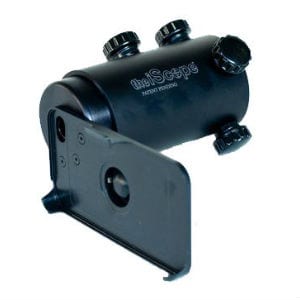 The iScope is a device that links your smartphone to your scope so that you can use the camera from your smartphone to broadcast your scope view. This allows you to both watch it with both eyes, and record your hunting trips as you see it. But how well does it work?
Overview
Most hunters are used to crowding in close so that they can get their eye right up to the scope and line up their shot. But for some this isn't the most comfortable position to be in, and maybe their eyesight isn't what it used to be. Then there's the pesky problem of trying to record what you're doing without having it affect your shot. It was only a matter of time before someone figured out how to get your smartphone into the hunting action, and here it is.
The Claim
The makers of the iScope claim that in just a few short steps you'll be able to hook your smartphone to the scope of your gun to give yourself a bigger viewing area of the same scope shot. They also say you'll be able to shoot more easily and accurately with this attached to your scope. They also say that you can record your hunt with the camera on your smartphone which means you can then easily upload it and share it with your hunting buddies. This would open up a whole new way to interact with your friends and compare hunting trips and stories.
The Hype
Jeff Foxworthy has jumped on board to help promote the iScope, and they've got a few videos of him trying to hunt down Bigfoot but not having much luck. A celebrity spokesperson always adds a bit of hype to a product because you don't know if they really use it or like it or are just cashing in a payday.
The Cost
The iScope is $120 for the black version and $130 for the camouflage version. This comes with everything you need to properly mount your smartphone to any sized scope. You will also need a zoom app in order to zoom, which costs 99 cents, and depending on your model of phone you may need to buy a special case to make sure it fits properly. Once you are properly outfitted there are no further costs of ownership.
The Commitment
After you attach this to your scope and get familiar with what it can do, it will likely represent a easier way of shooting and lining up shots. Some have noted that it might take a little getting used to if you've been a hunter for years and are used to sticking your eye right up to the scope. But for those that don't find this comfortable, or who like the idea of using both eyes to shoot, or zooming in on a full smartphone screen, this will be easier to use.
Evaluation
The iScope is a pretty smart idea and the inventor says that he stumbled upon the idea by accident, the way many good inventions are discovered. They've figured out how to get the phone to securely mount to the scope so you don't have to worry about recoil, unless your gun has some serious recoil, and they provide tips on what to do if that is the case. Other than that they say it should stay on there pretty well so you don't have to worry about your phone being damaged. You can really tell that this was created by a hunting enthusiast, by the way it is designed and the features it has.
Probably the most convincing proof that this really works is the ability to turn someone that hasn't shot a gun before, or maybe only a few times, into something of a marksman. What it basically does is gives it a video game feel so that it's easy to pick up and lessens the learning curve for how to shoot a target, whether it be for target practice or for an actual hunting trip.
One feature that many hunters will be hooked on is the ability to videotape your action. Finally you can share your experiences as they actually happened, rather than trying to convince your buddies of what you shot. This is a way to not only share it with those that aren't really into hunting, but to start your own video collection, and allow people to comment, like, and share your videos with others via social networking platforms like Facebook and YouTube.
Final iScope Review
The iScope is getting our Solid Try recommendation based on how well it's been shown to work, the price point, and especially if you fall into one of the categories of hunters that would benefit most by it, including those that would rather use both their eyes, those that have trouble taking the traditional shooting stance, and those that want to have the ability to zoom in more and line up the perfect shot. If you think about it this is also a more humane way of hunting, as a more accurate shot means you'll be able to choose parts of the animals body that will result in a quicker kill.
Our Recommendation
If you were intrigued when you first saw this gadget, grab it, you won't regret it. It works as shown, and the price is in line with other hunting gear and upgrades.
What do you think? Does iScope work or not?