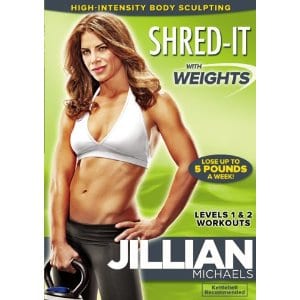 Shred-It With Weights by Jillian Michaels is one of a growing number of workout programs that promise to show you how to effectively use kettlebells in a comprehensive workout strategy. Of course she's built up a lot of credibility through The Biggest Loser, but she's really active in coming up with other workout programs, and is leveraging her celebrity to the best of her abilities. So how does this workout program compare to others
Overview
Using kettlebells can be tricky. The simplicity can make most people doubt them as far as being able to get you fit. When you look at somebody doing kettlebell swings, for example, they look as if they aren't really doing something that will get you in shape. Until you try it yourself. Then you see that in just a few repetitions your heart rate is elevated, almost all of your muscles are engaged, and you are working up a sweat. They are misleading because it looks like the momentum is doing all the work, but when you get ahold of it you'll see that you not only have to generate that momentum, but also control it, which builds your stabilizing muscles, and helps you increase your explosiveness.
The Claim
Shred-It With Weights says that it is a fresh and dynamic new way to work out. She has basically taken her 30 Day Shred program and tossed in weights in the form of kettlebells, to amp up the difficulty level, but also to put the finishing touches on the shredding effect. You don't actually have to use a kettlebell, they claim you can use a single weight, but a kettlebell is more versatile, and will allow you to follow along exactly.
Because you are adding resistance to the workout you will be able to build up lean muscle, which in turn helps you to burn calories around the clock, working synergistically to lose the fat that is covering your muscles, and strengthen the muscles that are under your fat.
The Hype
The hype is that it features Jillian Michaels, who is known for her in-you-face style personal training. She tones it down a bit in her workout DVDs but she will still push you to your limits and make you work harder that you ordinarily would if left to your own devices. Some hype is necessary when it comes to fitness programs, because if you don't get excited about them, then you probably won't end up using them.
The Cost
Shred-It With Weights is $13 at her official shop. It doesn't come with a kettlebell, but you can buy one separately at her store, or use one you already have, or buy one on the cheap online or at your local sporting goods shop.
The Commitment
With any kettlebell workout you go with you're going to have to be ready for a severe kick in the bottom. If you think you can phone it in, you're mistaken. There's really no light way to use a kettlebell, and even the lighter ones will give you a good workout if you do enough repetitions. If you try using the heavier weights, you need to spend some extra time on your form, because getting them under control can be quite the task. So definitely set some time aside to get familiar with these, and realize that there is going to be a learning curve so you don't get frustrated.
Evaluation
Even though the instruction in Shred-It With Weights is not Jillians' finest, the actual workout programs will definitely get you moving, get the sweat pouring, and get you results. Since it is built on the foundation of her already successful 30 Day Shred you are assured a good workout, no matter if you use weights or not. If an exercise feels awkward, make sure to adjust your position or your grip until it feels more natural.
Certified Kettlebell Instruction?
It seems that everyone wants to try their hand at kettlebells, and the overriding theory seems to be that if you're a personal trainer, you qualify as a kettlebell instructor. But these things are not like any other piece of workout equipment, and they take a lot of time and dedication to perfect the form. Not only that, but improper form can lead to injuries, or at the very least slow progress because you are not getting the full effect of the exercise. It's not really her fault, she just seems to be spreading herself too thin to cash in on this popular trend.
Final Jillian Michaels Shred-It With Weights Review
While most people seem relatively happy with Shred-It With Weights, there have been some that have pointed out that Jillian Michaels isn't really knowledgeable about kettlebells and probably got a crash course in how to use them so that she could film the program. They say that you can teach piano lessons if you just stay one lesson ahead of the student, but when it comes to something like a kettlebell workout, if you're unfamiliar with them, it's going to show when you try to teach how to use them.
Our Recommendation
There are two kettlebell programs that do a better job of instructing you in proper use of your kettlebells. These are Kettleworx, which is more of an advanced kettlebell training program, and Kettlenetics, which is a great primer on kettlebell usage.
What do you think? Does Jillian Michaels Shred-It With Weights work or not?