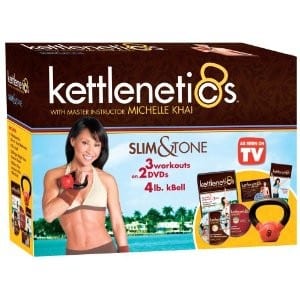 Those that have never seen a kettlebell might be intrigued by Kettlenetics. It combines a kettlebell workout with aerobics to get you lifting weights at the same time as getting your heart rate up. Does this combination work at keeping or getting you fit?
Overview
Kettlebells are growing in popularity in both health clubs and at home workouts. They've been around for quite some time and they basically look like cannonballs with handles. If you've never used one, they are a little awkward at first, so there are several companies currently trying to instruct people on their proper use, and making kettlebells more accessible to the average person.
The Claim
The claim made by Kettlenetics is that you can get both slim and tone by using their workouts. This is nothing new for a fitness related product, almost all of them promise the same thing, that you'll get into shape by following their system.
The thing is that almost all of these fitness systems work if you work them. They are just a tool, and if a tool gets left alone it don't work. If it gets employed it will do what it's designed to do. Make the decision that you really want a change in your life and the rest will fall into place.
The Hype
If people have never seen a kettlebell, they may think that it's a new or novel invention made by Kettlenetics. This would be a bit misleading, but wouldn't be intentional on the part of the makers of Kettlenetics.
The only other hype involved would be the implication that Michele Khai, the host, used Kettlenetics to get the body that she has. Most likely she used a combination of all sorts of resistance and aerobic training, a healthy diet, good genetics, and perhaps Kettlenetics as well to get her physique.
When a fitness company uses a professionally fit person to represent their product, it's automatic hype built right in. Somewhere in the consumers mind they know that this person spends their entire day trying to stay fit, but that is not what is implied when she uses the system and tries to show you how to use it as well.
The Cost
You can snag a Kettlenetics system from eBay for a Buy It Now price of $30. You can also get whichever size of kettlebells that you want as you progress with the system. This is a great way to shop because you don't have to worry about any sort of sales gimmicks used by products you see advertised on television.
The Commitment
Just like with any sort of workout program, you have to commit to using it as they recommend. This is especially true with this program, because it combines two things that most people try to avoid, resistance training and aerobics.
If you hate doing regular aerobics, you're going to loathe the Kettlenetics system, because it adds weight to it. This makes the exercises even harder to perform, and gets your heart rate up even faster.
Evaluation
If you actually get up off the couch and do the exercises as shown, this will give you a fantastic workout. As far as long-term sustainability for the average person, it might not be feasible.
Does Kettlenetics Really Work?
Absolutely. Introducing light resistance to effective aerobics workouts takes things to the next level. This shouldn't be considered by those that are currently leading sedentary lifestyles, but it's something that can be worked towards. You should get to a reasonable level of fitness before starting out with this one.
Our Recommendation
If you want to get from fat to fit, the key is to take baby steps. Quantum leaps don't work in the world of weight loss and fitness, and when they occur people usually end up reverting back to their old ways with no lasting change.
If you really want to use Kettlenetics, but are worried that you won't stick with it, start off by doing regular aerobic workouts. You could also perform the routines in the videos without using the kettlebells until you develop enough fitness to be able to add resistance to them.
What do you think? Does Kettlenetics really work?