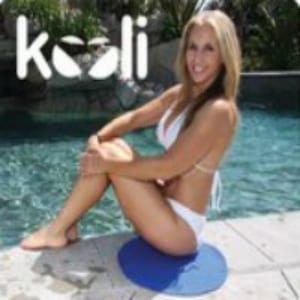 If you've ever burned your bottom poolside, you'll appreciate that someone came up with the Kooli. This might not seem like much when you first look at it, but there's actually some reasoning behind why it was invented. If you don't have a pool, you probably don't get it, but if you spend your fair share of time sitting by the pool you will be most interested in this. So does it actually work at protecting your swimsuit, and your bum?
Overview
There are certain inventions that make it to market that make you stop and think, "did they really invent that?". First, the market size has to be big enough to justify making the product. In this case, the researchers over at Kooli, Inc. must have determined that there are enough people in the world that spend their time sitting next to a pool wishing that there was a way to avoid having their swimsuit snag on the poolside surface, or wishing that there was something more cool and comfortable to sit on. Rather than just standing up and walking over to a poolside chair, they figured people would rather tote around a circular mat with one dedicated function.
The Claim
Kooli claims that it will prevent your swimsuit from snagging on the rough surfaces that they typically make poolsides out of. They also say that it is made out of the same sort of material that they make wetsuits out of, so it is durable, yet soft and padded, making it comfortable. That's pretty much all they claim, aside from a stylish design.
The Hype
The hype comes from this being one of those products that probably shouldn't have gotten the green light by the research and development team, but since it did it's fun to give it some consideration and see if it makes sense on any level.
The Cost
Kooli is $10 plus shipping and handling.
The Commitment
The commitment level to this is rather high compared to not buying it and using it. You have to commit to bringing your Kooli with you when you go to the pool, and then keeping it near enough to the pool so that you can put it in place when you want to get out. By using the alternative fix of not sitting on a rough poolside, you don't have to remember to bring anything with you, or keep anything close by. Even though they say that it rolls up and travels easily, it seems like a big hassle for a problem that is relatively easy to avoid.
Evaluation
The Kooli has the opposite problem of almost every single flop we've seen. Most products that don't make the grade have a good concept, but fail on the execution. But with the Kooli they've done a great job making the world's finest circular mat made of neoprene, the only problem is that the concept is flawed, there's just not enough need, and the problem they are trying to fix is more easily solved by just avoiding the voluntary and temporary act of sitting next to the pool. It's a rather petty and trite problem to go after, and would only effect a small fraction of the country. We understand that not every product out there can tackle the really big and universal problems, but this seems like something that should have gotten shot down at some stage of the development process.
Final Kooli Review
We just can't imagine a strong enough need to buy a Kooli, and then a strong enough resolve to actually put it to use in the real world. If you find yourself complaining about snagging your swimsuit when you sit by the pool, not sitting by the pool seems to be the easiest fix. Typically there are chairs and other places to sit that would be more conducive to an after swim sit. However, if you find that this would be helpful, we have no doubts that this is a well made product, and that it will stand up to repeated use, and deliver on its claims. You won't snag your suit on it, that's for sure, and it will be more comfortable than sitting on an uncovered poolside.
What do you think? Does Kooli work or not?