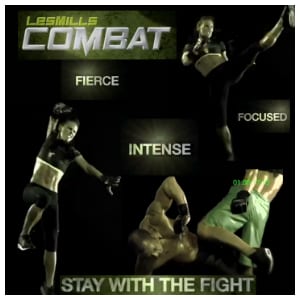 Les Mills Combat is a warrior style workout that promises that in just 60 days you'll have the sort of lean body that a fighter has. Today's workout programs are all about extreme exercises and extreme results, so does this really measure up?
Overview
No longer is it good enough to get in shape, you've got to get in battle-ready shape, or have the body of an elite athlete. What's interesting is that the claims being made here suggest that you'll be able to get these kind of results from an at-home workout, without having to go to the gym or get a personal trainer. The idea is that the fitness instructor on the DVDs provide you with the instructions and motivation to keep going.
The Claim
The major claim for Les Mills Combat is that in 60 short days you'll be able to take before and after pictures, and in fact they encourage you to do so so that you can get a free t-shirt once you finish the challenge. Any time there is a deadline placed on the results you will be able to see things get interesting. It is pretty easy to take objective pictures and be able to compare them against your future self. In the case of this program, you are covered by a guarantee for the full 60 days, so you can really put to the test and see if it's worth keeping or not.
The Hype
Riding on the success of his PUMP program, Les Mills is back with another workout that will definitely have people talking. It's also another workout series by the BeachBody corporation, so they've gotten pretty adept at producing and releasing intensive workout programs that sell.
The Cost
It's $75 for the basic Les Mills Combat kit, and you have the option of upgrading to the Supreme or Ultimate packages for an additional cost. The Supreme comes to a total of $105, and the Ultimate ends up being $135. They break up all of these packages into three payments of either $20, $30, or $40, with the $15 shipping fee being added to the first payment. As is common with all BeachBody workout programs this comes with a 60 day money back guarantee, and you only be responsible for every $15 shipping fee and return shipping charges.
The Commitment
Just like with any workout you're going to have to push yourself to do this either according to the fitness schedule they provide, or however you feel is right for you. But in order to see the results you got to put the DVD in the player and hit the play button. Most people will find that they get to overzealous at the start and end up burning out too quickly. It's always best to take things slowly at the start, and ease your way into this new fitness program.
Evaluation
Les Mills Combat will appeal to those that want to get fit, while at the same time performing actions that are similar to those that you learn while studying a martial art. Rather than just doing aerobic exercises that don't translate to any sort of physical prowess, this is a way to get your body moving by punching, kicking, and doing other moves that make you feel mentally tougher.
We say take them up on their offer for a free t-shirt. It's a great way to hold yourself accountable and to really see if this does provide results when used as suggested for the long term. One of the requirements is to measure yourself before and after you complete the program so you can see how far you come. They want to know things like your body fat percentage, and your waist measurement. These are things you'd want to know too, so you know how far you've come. So kill two birds with one stone, get a new body, and a free t-shirt to boot.
Keep in mind, even though the moves you will be doing resemble moves that could protect you, it's important to understand that this is no substitute for official self-defense training. You don't want to build up a feeling of false confidence and then try to use what you learned in an actual fight or confrontation. The same can be said with other fitness programs that are based on MMA fighting. It's a great way to get fit, but if you really want to learn how to fight you should seek out real world instructors that can show you the actual moves in person.
Final Les Mills Combat Review
We're giving Les Mills Combat our Thumbs Up rating. For the most part people seemed pretty happy with the program and the results they're getting, and aside from a few quirks it seems to rank pretty highly in regards to competing programs. It's rare to find a workout program that appeals to everyone, and there are a few naysayers, but overall it seems to deliver.
Our Recommendation
We tend to recommend BeachBody products, as we've had nothing but a good experience with their fitness and health offerings. But with so many different fitness programs to choose from it's a good idea to browse them all and see which one resonates best with you. It could be that it is this Combat program by Les Mills, or you might find that it is the P90X program with Tony Horton, or the Insanity program with Shaun T. They all have similar production values and all will get you to the level of fitness that you've likely never had before.
What do you think? Does Les Mills Combat work or not?