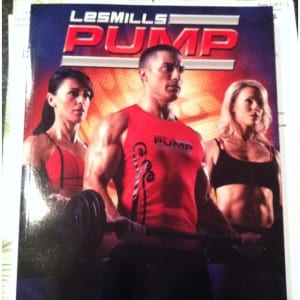 The Les Mills Pump Workout is pretty unique in that it's an at-home barbell workout. Most at-home programs use things like resistance bands, dumbbells, or kettlebells, and it's not very often that you see a barbell. So can you can a full-body workout with it, or does this fall short of its promises?
Overview
Most people aren't too familiar with a barbell and the different exercises you can do with it. In the gym it's usually relegated to the bench press bench, or the squat station. You might also see the occasional person doing a deadlift with it. But there are many exercises you can do with it that target the different muscle groups, it's just a matter of being shown the proper form for each one.
The Claim
The Les Mills Pump workout claims that you can work out just three times per week in order to get amazing results. This is usually what most workout programs say, as it is really the shortest number of times per week that still sounds believable. No one would believe that you only have to work out once or twice a week for great results, and 4 days per week would mean that you're working out more often than not. So three times per week seems to be that "just right" number used by many programs.
They also say that by switching things up and going for light weights and many reps you are combining aerobics with weight lifting and building lean muscle rather than bulking up. This may sound like a good idea, but it can get rather tedious lifting a weight dozens of times just to get a good workout.
Who Is Les Mills?
You may be wondering who Les Mills is, and whether they're going to host the DVD training. Well, probably not since he's a 77 year-old New Zealander famous for being an Olympian and for starting his own gym. Now they're into fitness instruction, and have a series of at home training courses such as this one.
The Cost
The Les Mills Pump workout is $15 to try for the first month, and if you like it you get charged $60 a month for the next three months for a total cost of $!95. Considering that you're getting the equipment plus the DVD program on how to use it, it's not a bad deal. It's really important to try it out as much as you can in that first 30 days to see if it's something you'll want to stay on with.
The Commitment
You're going to have to be committed to learning the different exercises you can perform with a barbell if you're not already proficient with them. The good news is that a barbell provides more stability than dumbbells so many of the motions won't seem as awkward. The bad news is that this means you'll be using less stabilizer muscles, which is what makes dumbbells so effective.
Evaluation
It will probably take some getting used to if you're used to using dumbbells or machines at the gym, but the Les Mills Pump workout hits all of the key muscle groups and if you push yourself hard enough with it you should see results. Be sure to spend some time on the Basics DVD, as this will give you the fundamentals you need in order to perform the exercises with the right form so you get the most efficient use for your time spent.
Working Out at Home
There's a funny phenomenon about working out at home that trips up many people. The thought is that since there's no impediments to your working out that you'll be able to do it more regularly. The weather doesn't matter, car trouble doesn't matter, and a busy schedule shouldn't matter unless you're constantly on the go from morning till night. But what many people find is that even though it's as easy as popping in a DVD and having the privacy of the living room or den, it just not something they can stick to long enough to see results.
Final Les Mills Pump Workout Review
We're going to go out on a limb and say that the Les Mills Pump workout is the only one out there that uses a barbell, and actually comes with all of the equipment you'll need to perform the workouts properly. With so many gadgets and contraptions out there, it's nice to see this throwback to the old school ways. It's also nice to see a program that focuses on building lean muscles rather than trying to convince you that it will bulk you up at home.
Our Recommendation
This is definitely something that you should consider if either of the following apply to you: you've always wanted to expand your repertoire of exercises you can perform with a barbell, or you've been thinking of switching your workout routine from heavy weights and low reps to low weights and many reps.
What do you think? Does Les Mills Pump Workout work or not?