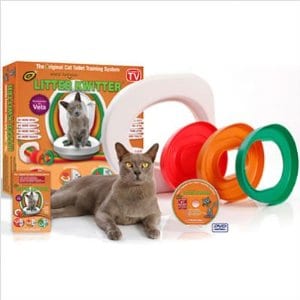 Litter Kwitter is a system for toilet training your cat so that they don't need to use a litter box. Ideally you'd just have to flush the toilet for them when they're done. It seems like it would be a Godsend if it worked, and at this point several people have tried it and have come back to speak of their experience. So let's see if it really works.
Overview
Ever since the movie Meet the Parents, cat owners have been trying to get their cats to behave like Mr. Jinx and use the toilet. As odd as it might look at first, there's no reason why a nimble cat can't learn to perch itself on the toilet seat and use the toilet for all of their business.
The Claim
The makers of Litter Kwitter say that their the original toilet training system for cats. They say that by weaning your cat off of their litter you'll end up being able to discard the litter box, saving money and having a cleaner home all around. The way they do it is in phases, with different colored trays each getting your cat to master a new technique.
The Hype
The thought of having a home with no more litter is enough hype to propel cat owners to try this. Especially if they have multiple cats and struggle to keep up with a constantly filling litter box. They've also had the product featured on various news stations.
The Cost
The Litter Kwitter system is $50, which is a more expensive than competing products, such as the CitiKitty which goes for less than $30. Some buyers of both systems have said that the Litter Kwitter is more sturdy than the CitiKitty, so it might be better for larger sized cats. But the CitiKitty has more gradual steps, with a much smaller hole in the first ring, so it might be better at keeping your cat comfortable.
The Commitment
You have to commit to having a litter-free home. Think of it: no more having to buy litter, no more stepping on bits of gravel, or sucking them up with the vacuum, or sweeping them up with a broom. No more smelly corner where you keep the litter box, or smelly garbage where you keep the thrown out poo. It's definitely worth sticking to, and going through a bit of hardship in the form of a few accidents and near misses. Eventually your cat will get the hang of it if you persist long enough.
Evaluation
The secret method is the removable trays that come out one at a time as your cat learns to squat on the toilet. They start off with a full litter box set atop the toilet seat. Then the inner rings are gradually taken off, and a hole widens up in the middle until they're basically using the toilet and the litter is just there for old time's sake. At that point you remove the final ring, but now your cat is used to the idea of using the toilet, and doesn't feel the need to hang around and cover up their mess.
Many of the complaints come from owners that are surprised that their cat misses the mark or goes elsewhere during the training. Perhaps they felt that the entire process would be a clean one, and that they'd simply start using it as expected, and continue on perfectly the whole time. This is introducing a new system for your cat, and one that goes against their natural instinct to want to use litter. It's going to take some training, and successful users have said that you have to be patient, and that it may take longer than advertised in order to get to the finish line.
Some have said that the rings are too widely spaced, and that they represent too much of a step for a cat to handle, which causes problems. Others have said that even though it's supposed to fit every toilet, it doesn't, and they weren't able to properly put it onto the toilet, hence screwing up the system. Aside from these technical malfunctions the majority of users have said that it worked, and their cats are now toilet trained. So it appears the Litter Kwitter system has the capacity to work, if all of the elements involved fall into place.
Final Litter Kwitter Review
The Litter Kwitter is getting our Solid Try rating, as there have been a number of successful attempts. While it's true there have been a good amount of complaints with it, much of this seems to be user error, and perhaps caused by moving the cat on to the next phase too soon. This is one product where there's simply no way to guarantee that it will work for your cat, so you'll just have to try it out and see whether they take to it or not.
Our Recommendation
It's good to study up on the theory of how to toilet train your cat, because you need to understand the psychology behind why they like to use a litter box, and how you can make it a more enjoyable experience for them to use the toilet. The more you keep trying to force your cat into a certain behavior the more trouble you're going to run into. Keep onward with the mission, knowing that others have successfully made it to the Promised Land of no more litter.
What do you think? Does Litter Kwitter work or not?