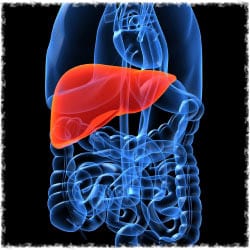 Many people underestimate just how important their liver is, and never even consider a liver cleanse as a treatment option. With so many roles to perform, and so much it's responsible for, it's alarming that it doesn't get more press and attention, and that people don't keep it as clean as they should. Lots of things can disrupt the proper functioning of your liver, including overeating, alcohol, caffeine, processed foods, and more. But does a liver cleanse really help?
Overview
The theory behind doing cleanses is that due to our modern lifestyles, our bodies are subjected to all sorts of unnatural substances, and it is necessary to flush them out from time to time. For example, colon cleanses are popular because people liken it to a sewer system, and the popular theory is that gunk gets backed up and needs to be broken up and cleaned out at regular intervals.
The liver is especially subjected to all sorts of hard work, in the form of filtering alcohol, caffeine, and other substances and toxins from the foods we eat and the drinks we drink. Unlike the heart they haven't found a way to replace the liver, so it's pretty much just as important as your brain.
The Claim
Depending on which health guru you ask, a liver cleanse can be a live-saving thing to do for your body, or it can just be something you should do as part of a comprehensive cleansing of the body. It's hard to understate what a liver does for the entire body and mind, but some health practitioners out there say that all of the body's functions center around the liver.
They claim that a dysfunctional liver is responsible for things ranging from heart disease, to male pattern baldness, to sexual function, to miscellaneous aches and pains. The concept here is that a backed up liver, compounded by a backed up colon, will eventually show itself in any area that is causing pain, discomfort or harboring disease.
Contrarily, they say that once you free up the liver and colon you will be on your way towards a properly functioning digestive and elimination system
The Hype
The hype is that many people believe that cleanses like these don't work, and that almost all alternative medicine practices are bunk. Especially with a liver cleanse, they say that intrahepatic stones don't actually exist and the cleanse does not remove them, but is only a parlor trick that makes people believe they are actually removing harmful substances from their body.
The Cost
You can do a liver cleanse on your own pretty cheaply, or you can opt for some of the liver cleanse products out there that can range from $20 to $50 or more.
The Commitment
You have to be commited to the process, otherwise it won't work. If your liver has really taken a beating, it won't heal itself overnight, so you have to work on treating it well over the long term.
Evaluation
There is a relatively cheap way of going about a liver cleanse. One of the more popular ways is outlined in the book The Amazing Liver and Gallbladder Flush. In it, people are advised to drink apple juice for a period of 6 days prior to doing the actual flush. On the sixth day you get a colon cleanse, then you take a series of Epsom salt water doses, capping it off with a mixture of olive oil and grapefruit juice at night. By the morning you have a series of bowel movements and you are expected to find an assortment of gallstones in the toilet.
The Debate
There are those that believe that a liver flush actually removes gallstones from inside the liver and gall bladder, while others say these are not gallstones at all but rather a byproduct from drinking a mix of olive oil and lemon or other citrus juice.
The major argument against these being a product of the oil and citrus mixture is that the number of stones varies from flush to flush. If it really were caused by doing the flush, the approximate number of stones would be about the same.
There has been analysis of the stones from both sides, and each has concluded that their opinion is correct. The side for liver cleanses says that they are made up of the same materials as gallstones, while the side against the practice says that they show a makeup of acids found in olive oil. It's really up for you to decide which case sounds more accurate.
Final Liver Cleanse Review
Medical science will always try to negate claims made that we can heal ourselves, because there's no money in it. Doing a simple cleanse that only requires cheap things like Epsom salts, apple juice, and some grapefruit won't line the pockets of doctors or pharmaceutical companies. While this may not be the cure all to an assortment of ailments, it is good to treat your body well and to help it along on the healing process.
Our Recommendation
If you've been especially hard on your liver over the years, it's probably a good idea to at least give it a rest and allow it to rejuvenate itself. For example, stop drinking alcohol for a while so it can flush out the impurities. You can also drink things that are known to help cleanse the liver.
If you want to go all out, you can do a series of liver flushes and try to release some gallstones.
What do you think? Does a Liver Cleanse work or not?