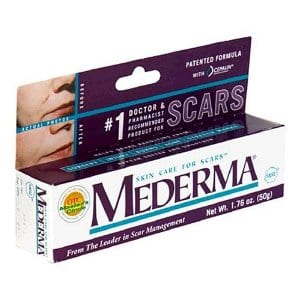 Mederma is a popular over-the-counter medication that is designed to help heal scars and stretch marks, leaving your skin blemish free after some time. Many people have scars they'd like to get rid of, and plenty of women have tried product after product trying to take care of their stretch marks, but with no luck. Thanks to a broad-sweeping advertising campaign, Mederma is pretty well known by the mainstream, but does this mean it actually works?
Overview
Life makes scars and stretch marks so there is a wide audience of people that want to know how they can make them fade away. There are many products out that that either don't do anything, or make the problem worse by changing the shape or color of the scar. Finding something that allows the skin to heal itself, just more quickly, would be well-received by those that try it.
The Claim
The claim is that if you use Mederma on your scars or stretch marks, it will gradually improve their appearance until you can barely notice them.
The promise for stretch marks is 12 weeks. That's 4 months of using the product daily. Many people don't have the wherewithal to keep up with something that long, which is why we address this in the Commitment section below.
The Hype
The hype really comes from their advertising campaign. It shows people revealing their scarless face or other body part after holding up a "before" picture. This makes people think that the product works quickly and on lots of different people and different skin types and scar types. The reality is that these people are likely exceptional cases, and that their after picture could be done with a cover-up using make-up, surgery, or they could have made the scar look worse than it was through lighting or editing.
The Cost
They make two different products here, one specifically for stretch marks, and the other for scars. The stretch mark cream can be found for around $40, and the scar treatment goes for about $23. They also have a special formula for children, Mederma for Kids, that goes for around $15.
The Commitment
Mederma works over time, so you have to be committed to applying it religiously according to the directions, and be patient. In their promotional efforts they show people holding up pictures of their old scars and then removing them to show the same area that is now scar-free. It might be a good idea to take your own before picture because the mind works in a way that will make it hard to see the small progress you're making every day.
They even have their own iPhone app that lets you take daily pics of your scar so you can see the time lapse results. This is a great way to stay motivated, and also to see that you are making progress, even though if you look at your scar in the mirror you might think it still looks the same.
What People Are Saying
Mederma products get pretty good reviews overall, and most people have said they've seen visible results over time when sticking with it. The only problem here is the length of time that's required. If you make it a part of your daily routine you just need to be patient and let it do its job.
Common Complaints
One of the most common complaints about Mederma is that it causes breakouts. If your acne is so bad that it leaves scars, this could seem like you're chasing your tail. You should try it on a small spot on your face first to see if it causes acne, before spreading it more liberally onto your scar.
Final Mederma Review
Mederma works, but you have to give it time. Scars and stretch marks are especially tricky to mend, because they've change the makeup of the skin, and you have to allow time for things to return to the way they were before. If your scar is in a very visible place you might be desperately hoping that it will go away quickly, but you have to get on board with the fact that it might take longer than planned.
With stretch marks, you might want them gone yesterday, but these can be some of the most stubborn things to treat. If you have deep stretch marks, or a dark-skinned, Mederma might not be for you and you might want to seek more effective treatments.
Our Recommendation
Definitely follow the directions on this one, or you might be disappointed. It's worth a try to see if it works for your situation, but be sure to stick it out for the long-term to see the best benefits. Many of the people that said it didn't work likely didn't give it enough time, or got frustrated before the best results could appear.
What do you think? Does Mederma work or not?