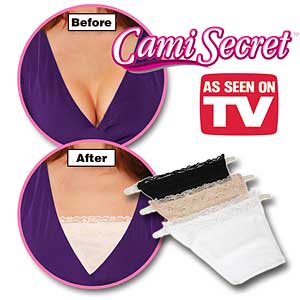 Cami Secret is designed to keep your cleavage covered up, without causing a big hassle or drawing attention to yourself. It's supposed to take the place of a camisole, but without the added bulk and without having to constantly struggle to adjust it beneath your shirt.
Overview
Many women like the look of a camisole, but don't like wearing the extra layer of clothing, having it bunch up under their arms, and having it get twisted underneath their blouse or top. Also, having to change when work is finished and before you go out on the town can be a real hassle. The way Cami Secret works, it's real basic. It's basically a piece of cloth that attaches to your bra straps and drapes over your bosom to cover the goods. As easy as it pops on it pops right off when you want to switch looks.
The Claim
The makers of Cami Secret claim that by easily and quickly attaching the unit to your bra, you'll be able to go about your business worry-free, and still look great. The examples they give is a workplace situation where you don't want to go around flashing everybody and getting a reputation at the office for wearing inappropriate clothing. Another example is going on a date and leaving something to the imagination so you can have your date's attention instead of being to forward.
The Hype
The hype comes from the infomercial, which has created quite a few parodies. While it may be troublesome finding the balance between what's appropriate or not at work, it does seem to exaggerate how bad the situation is, and how hard it is to use a safety pin, or keep your undershirt in the right place. Also, it does seem a little old-fashioned or nonsensical to wear a low-cut top but then cover them up. It's as if you can't make up your mind about what image you're creating.
The Cost
The price is right when it comes to Cami Secret. You can get a pack of them for $10, which is a double offer so you just pay two shipping and handling charges, and you get twice as many. So for $24 you get a double set in many different colors so you can mix and match with your wardrobe.
The Commitment
Cami Secret is designed to reduce the amount of time you spend fussing with an undershirt, trying to pin your low-cut tops together, or hiking up your top when it droops too low. It installs pretty quickly so you don't have to take much time out of your day to wear it, or to take it off. It should make that part of your life easier.
Evaluation
It's usually the products with a simple design that work the best, and the Cami Secret is no different. They didn't invent anything mind-boggling here, it's just a series of buttons sewn onto a bib basically, and you just button it on to each of your bra straps. In the commercial it shows that you can adjust the height of it depending on how much you want to show off, but it's not clear how they did that, since the bottom system doesn't really allow for a lot of fine tuning. The piece is just going to come to rest where it comes to rest.
The quality is as you would expect from a made for TV product, but in this case it works out pretty well. It's not the finest of materials, but it's stitched well and should hold up to repeated use over time. There's also a chance you could get a defective unit mixed in with the bunch, as can sometimes happen when goods are mass produced in China and other countries.
What People Are Saying
Most people have said that it works, with a few caveats. They say that it's not perfect, but it actually does do the job of staying in place, and keeping your chest covered.
Final Cami Secret Review
They've done a pretty good job of putting this set together, and by all accounts it works as described. It may not be perfect in some situations, or with some fabrics and materials, but overall it gets the job done without people realizing it's not a full camisole. We're giving this one the thumbs up for a solid try recommendation.
Our Recommendation
If you relate to this sort of situation, then you'll probably get a lot of satisfaction. However, if this is only a passing annoyance, or only comes up once in a blue moon, you'll probably be disappointed. It's not rocket science, and they've made it as easy as possible to use. Of course, this may not work in your situation, or with that particular top you have in mind, but at this price point it's worth a shot to see how you like it.
>> Click Here to Visit the Official Cami Secret Website <<
What do you think? Does Cami Secret work or not?