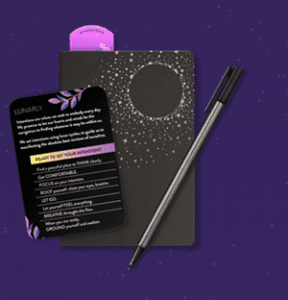 Self wellness, inspired by self-care is enjoyed by many women. When you feel good inside and out, your level of productivity increases tremendously. Subscribing to Lunarly is a great way to achieve this.
Overview
Lunarly is a monthly subscription to a nature-inspired self-care program powered by the new moon.
The Claim
The claim to Lunarly is it teaches you about intention setting.
The Hype
The hype about Lunarly is that it is a self-care program that possesses the tools that inspire mindful living.
The Cost
The cost of Lunarly is $40 USD per box and includes free shipping. It is a monthly subscription, and you will be billed each month. It is cancellable at any time before the next billing cycle.
The Commitment
The commitment to using Lunarly effectively is ensuring you subscribe each month to achieve the full benefits of the program.
Evaluation
Lunarly is a great self-care program that is shipped to you each month before every new moon. Each monthly subscription consists of a box full of self-care tools. The box may include specially curated plants, wellness products, bespoke candles, mindfulness tools, and more. Lunarly teaches you self care practices like meditation and journaling. A plant is included every other month with a care guide for the plant. This subscription will not only teach you how to grow plants but also how to grow yourself as well. The program teaches you how to use the lunar cycle to best meet your self-care needs.
Final Lunarly Review
We are going to give Lunarly a thumbs up. Any product or program that improves self-care is something everyone should try. Lunarly can help reduce the stress of everyday life. You will feel so much better about yourself and will become more focused. Setting time aside every day to practice some of the meditations and mindfulness will help you achieve a feeling of wellness overall. Customer reviews have stated the subscription boxes contain full-sized items as opposed to sampling sizes. The subscription was created to benefit mental health. Mental Health is extremely important and has become a well-known issue, even with athletes and celebrities. Each box contains something new every month. For example, June was Strawberry Moon month, and the box contained SelfGoddess Crystal Infused Smudge Spray, a rainbow moonstone pendulum and whole foods air wrapping mask.
We would highly recommend trying Lunarly as a self-help and care program. There are other similar products and therapy groups which can be used in conjunction with this subscription to optimize your overall well being. Perhaps enrolling in yoga or meditation groups will help with relaxation. Practicing mindfulness and staying in the moment teaches you how to focus on what you are doing now. It stops the mind from wandering to issues that may be stressful and which cause anxiety. It is a very healthy way of living. Before you can care for your spouse or children, your own mental health has to be in order. Having an overall feeling of wellness can affect every facet in life and make things much more enjoyable.
Our Recommendation
If you are shopping around for some great beauty products to help you look your best then check out the 6 in 1 beauty solution.
What do you think? Does Lunarly work or not?