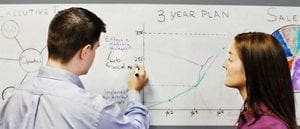 No matter what you want call it, the Gridded Whiteboard product, the Magic Whiteboard, Blackboard, Clearboard, Blackout Blinds or even Office Mini sheets it seems this product is really taking the office by storm. It allows you to take a simple sheet of plastic off of a role and by using simple static charge electricity they are able to adhere this on to any flat surface. Then one use simple magic markers to produce star quality presentations.
Overview
The variety of products associated with Magic Whiteboard seem to provide amazing alternative to your regular flipcharts and whiteboards. Like those that people generally use for presentations, conferences, and even non- office uses like a wall for kids to draw on, for example.
The Claim
The Magic Whiteboard takes place of so many other office presentation uses. By utilizing static cling they are easily able to take this magic roll and through its perforated single uses you are able to on any type of flat surface stick it to the surface. Then you can use any type of marker you are able to not only provide the visual aspects you need. But at the end of the day, you can simply take it off it the wall, wipe it down, reuse it, and there is no marks anywhere you have used it on the surface.
The Hype
The Magic Whiteboard is certainly taking the office world by storm. It is a product that is less than 2 pounds and its role is portable and lightweight. You can create either single sheets or use a large sheet up to 65 feet long with a single roll and it leaves no marks. It will not peel paint off the walls. You can place paper notes and photos on it without glue, tape, or pushpins, and utilizing normal dry whiteboard markers. They can wipe free clean and you can reuse each sheet over and over again.
The Cost
The cost of the Magic Whiteboards vary from $64.99 to $129.99 depending on the size you choose you need. They come in rolls and checking online will find you the best price for what you need.
The Commitment
The Magic Whiteboard is certainly committed to providing you with a new type of presentation background. Where you can save a ton of money by utilizing recyclable statically charged polypropylene film. It can be reused on a regular basis and is great not only for office issues, but for home as well
Evaluation
This is a great product and was deemed so by the Dragons Den on TV. The Magic Whiteboard was greatly received by these investors and they quickly saw the money to be made. They had no problem making the best and on their end to make sure that this product was brought into Canada and the United States after making its great debut into the United Kingdom.
Final Magic Whiteboard Review
Whether you are using this in an office or want to use it at home, the Magic Whiteboard is definitely something that is amazing. Especially for any type of presentation that you want to use. Use the perforated sheets to determine the size of your presentation. Use dry markers and even with your hand you can wipe the marker off with no residue. Peel the presentation off at the end of the day and reuse it wherever you need to and this product will definitely be well worth its money. We are giving this product a thumbs up.
Our Recommendation
If you are looking for another handy product for the kids you may want to check out the Slantable.
What do you think? Does the Magic Whiteboard work or not?