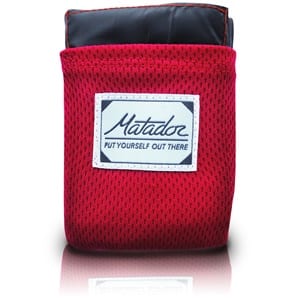 There are so many times that we need to carry some extra warmth with us perhaps for the kids or just for ourselves, or for some ground cover when you want to lay on the beach or picnic. It can be cumbersome lugging a blanket around that is going to do the job, but the Matador Pocket Blanket may be a solution that you can carry along in your purse or pocke,t yet be exactly what you need.
Overview
The Matador Pocket Blanket is a beach or picnic blanket that folds down to the size of the average smart phone, literally!
The Claim
The claim is that this small and mighty strong blanket will suit all your picnic or beach going needs without ever compromising on comfort or durability in any way.
The Hype
The hype is quite obviously found in the extremely small size that the Matador Pocket Blanket will fold into when not in use. The standard Matador will fold up to the size of the average phone as indicated above and the smaller version Matador folds down to the size of a matchbook!
The Cost
The cost of the standard Matador Pocket Blanket is a reasonable $29.99
The Commitment
Not much commitment required for this little wonder. When you need a beach or picnic blanket simply pull out the Matador Pocket Blanket and unfold and use to your hearts content. When you no longer need it simply follow the dotted lines on the blanket to fold up to the storage size indicated.
Evaluation
We first thought that a blanket this size would not be very durable but we were completely wrong. This compact wonder is made from exceptionally durable material that is both puncture and water proof. The size when unfolded is a reasonable 63 inches by 44 inches, more than enough room for 2 people to stretch out comfortably or for 4 people to sit on. As anyone who loves going to the beach or on picnics understands the biggest pain in the butt is trying to carry a blanket that keeps unfolding and falling all over to the spot you have chosen to hang out at. This little baby will erase that problem for all time to come. Handy and durable, this one is a must have for any outdoors enthusiast who hates lugging a full size blanket out for a day at the beach or the favorite picnic spot.
Final Matador Pocket Blanket Review
This Matador Pocket Blanket is truly the way of the future. Everything we own is getting smaller and more compact and now our beach and picnic blanket is no exception. Being able to fold up your blanket and toss it into the glove box is the way to go and with the Matador you are able to do that and more. Get one today and see for yourself!We were going to give the Matador Pocket Blanket a thumbs up even before checking to see if it was on Amazon, and of course it is, and it just confirms that we are right to rate it as a thumbs up.
Our Recommendation
For anyone sick of lugging a blanket along to the beach or picnicking the Matador is for you. Great idea, great product and great times! What could be more simple? If you are a blanket person then you may also want to check out the Snuggie Up.
What do you think? Does the Matador Pocket Blanket work or not?