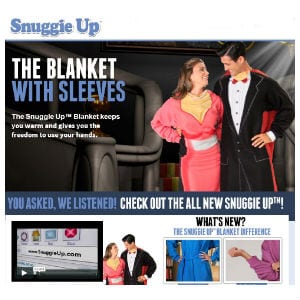 The Snuggie Up Blanket is the Snuggie reincarnated with additional features that the makers say were requested by actual Snuggie owners. It's supposed to be an upgrade from the previous version, so let's see what's new with this model and whether it's worth getting if you already have a Snuggie, or you are new to the whole thing.
Overview
Whether you got into the Snuggie craze or watched it from arm's length, there's no denying that it became a meme and became super popular. When a product makes that many sales it's bound to get feedback from users on what needs to be improved. A manufacturer can take that feedback and ignore it, riding on their previous accomplishment, or improve the product and re-release it, which is what they've decided to do here.
The Claim
The makers of the Snuggie Up blanket say that they took all of the feedback they were getting on the Snuggie and made improvements to the new Up blanket so that it's just as good as the Snuggie, and even outdoes it in a few different areas. For starters, this new Snuggie has fitted sleeves, so you won't get the floppy sleeve effect going on, and it will fit more snugly than a Snuggie around your wrists.
The Hype
The hype is that this is from the same makers as Snuggie, so they already have brand recognition and a history of wild success with their previous release. Now the company has the money to really advertise this like crazy, where on the first round they couldn't be quite sure if the public was going to accept their offering or not.
The Cost
The Snuggie Up Blanket is $14.99 which includes shipping when ordered through the Snuggie site.  It comes in different colors and designs, like a tuxedo and bathing suits, and there's no additional charge to choose which design you want. Considering that you can buy a highly rated fleece blanket for a few dollars more you may want to compare the two to see which better suits your needs and offers you true value for your investment.
The Commitment
This blanket says that it's a better choice than an ordinary blanket because you can stay covered up in it, even when you stand up. Also, you can hold things in your hands without undoing the blanket. In this regard it should be less hassle than having to consistently lose your warmth when you get up, or have to reach for the TV remote, a beverage, or when reading a book.
Evaluation
The Snuggie Up Blanket needs to show that it is a better choice than the original Snuggie if it wants to make its sale. There are other blankets that are trying to gain market share on the Snuggie by including things like foot pockets so you are fully covered by it. So rather than just trying to improve upon their original model, they should have taken into account the features of their competitors so that they could bring an even better product to market.
The original Snuggie ad that started numerous parodies:

By adding a waist tie they have gone full reverse robe on this one. Being a robe you wear backwards was one of the criticisms it received when it first hit the market, and now you can complete that look by tying it at the waist. The cuffed sleeves give it a feel of being an oversized fleece sweater or jacket. They could have also made it a bit thicker, since the original Snuggie is not very thick, and you really have to use another blanket on top of it to get really warm. If they wanted to deluxe this up, using a heavier material would have been nice.
Final Snuggie Up Blanket Review
The Snuggie Up Blanket appears to be a Solid Buy for those that don't already have a Snuggie, but perhaps not worth upgrading to if you're already relatively happy with your Snuggie. The price point on this is overall comparable, but only if you love your Snuggie and wish it had a waist tie and cuffed sleeves should you get this improved version. It's hard to believe it's been 5 years since the first Snuggie hit the market. Hopefully they don't wait another 5 years to make improvements on it, because they missed a few key features that would have earned this a Thumbs Up from us.
Our Recommendation
No matter whether its a original Snuggie or the Snuggie Up you are thinking of bundling up in, it is bound to be a warm and fun experience.
What do you think? Does Snuggie Up Blanket work or not?