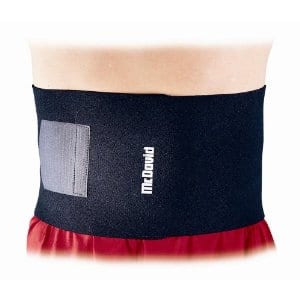 You might be in the market for a McDavid Waist Trimmer if you're looking for a quick way to improve your appearance, or something to offer support throughout the day, or while you're working out. But can something like this really be a quick fix as far as appearnace goes, and does it offer any extra benefit when worn while working out?
Overview
If you think this is just some sort of corset that is meant to draw in the fat in your gut, you'd be wrong. Today's slimming belts and trimmers are designed to provide two distinct benefits, slim your appearance and help burn fat while doing a cardio workout. They're also made with new materials that let you breathe and that don't simple constrict the area, but rather provide support and can actually be comfortable. In the Victorian Era, corsets would constrict so much that a woman's organs would be displaced. Not true with today's slimmers.
The Claim
McDavid claims that their waist trimmer will help reduce the amount of back pain you experience, and they say that it could also enhance your weight loss by boosting the amount of heat in your midsection. They say that it also compresses and supports your core area, providing a cushioning effect due to its neoprene material. They say that it is fully adjustable, so you don't have to worry about it not fitting, or cutting off your circulation, and they add that it won't slip around and cause you to always be adjusting it.
The Hype
Waist trimmers and slimmers are experiencing a boom these days, as many people are interested in making themselves look good without putting much effort into it, or trying to get the maximum results from a workout program by sweating more. This means that as a whole there is some hype associated with these since several companies have emerged with different styles and claims, with the basic premise being that these can assist your workout efforts, or give you instant upgrades to your appearance.
The Cost
You can pick up a McDavid waist trimmer for less than $20 at Amazon, and if you add a little more to your order you can get it all sent for free with their shipping promo. If you don't want to pad your order you can get it for right at $20 which includes shipping. This is a very good price for a product of this nature, and when you compare it to the other waist slimming belts and shapers out there it almost seems like a steal.
The Commitment
All that's really required of you is to put this on. You should immediately feel more snug and secure, and it will help with your posture, making you appear slimmer and more confident. To get the full effects that it claims you'll want to do some form of physical exercise in it so that it can cause you to sweat more and potentially lose more weight with the same amount of effort.
Evaluation
The interesting thing about a McDavid waist trimmer is that it actually get really good reviews. We've checked out a lot of the body shapers and toners and haven't seen one with this much of a unanimous decision. The vast majority of users are really happy not just with the quality of the construction, but also with the results that they're getting from wearing it. It seems that no matter if you are wanting it for long-term weight loss, or just want something to help disperse and secure the fat in your midsection, this should do the trick.
Your best bet would be to wear this throughout the day if you experience mild to moderate back pain. You don't want to get too carried away with the exercise, but you should try to work up a sweat each day. This can help you do that, and should provide more sweat while performing the same amount of exercise compared to not wearing it. This will mostly help you lose excess water weight, but in the end a pound is a pound no matter where it comes from.
Final McDavid Waist Trimmer Review
People seem to really like their McDavid waist trimmer, so we're giving it our Thumbs Up review. After doing further research it appears that McDavid is one of those companies that has been quietly making quality products for several decades, and this just happens to be one of them. There are a lot of different companies springing up to take advantage of this new market, but it's always best to stick with a company that's been perfecting their craft for a while, and that doesn't make outlandish claims in order to make the sale.
Our Recommendation
As long as you're shopping for waist shapers, slimmers, and toners, you'll be just fine with this one. It's made with high quality materials and has gotten great reviews from a significant number of users. Rather than trust an unproven product that has no social proof, it's better to stack the odds in your favor and go with something that has been put to the real world test and passed with flying colors. At this price point it's an easy decision to give this a try, especially if you've tried others before and have been disappointed in the materials used.

What do you think? Does McDavid Waist Trimmer work or not?