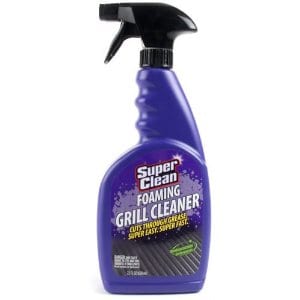 Super Clean is a suite of cleaners that claims it can clean just about anything. Like Scrubbing Bubbles you're supposed to be able to spray it on, let it go to work, and then wipe away with very little or even no scrubbing on your part. The offer seems pretty generous, netting you four different bottles and a cleaning cloth for $20, so let's see what real world testing is showing, and whether or not it works.
Overview
There's a certain sense of pride that you get when you get something really clean. It brings things back to the way they were when they were new, or it makes you feel refreshed because you get to use something that is nice and new looking. That's the feeling that manufacturers are trying to capture in a spray bottle, and sell you on. Some do it better than others, but when a product says that it does the hard part for you, namely scrubbing until your arm feels like it's going to fall off, you have to double check to see what others are saying.
The Claim
The makers of Super Clean say that it clings to the surface that it's supposed to be cleaning, and as it does so it breaks down the dirt, grease, and grime so that when you wipe it away all that remains is a clean and clear surface that was originally there. They say you can use it on all sorts of things, not just household items but in the garage as well. Some examples they give are tiles, sinks, and faucets in the bathroom, car parts like tires, rims, and engine parts, as well as in the kitchen on stove tops, burners, and ovens.
The Hype
Cleaning products in general get a lot of hype, mostly due to the infomercials that are shown on TV. There's something magical about a product that can clean up a mess, or restore a surface back to the way it was before. It speaks to us humans on a deep level, especially if you're a clean freak, or just take a lot of pride in having nice things. In this case it's not only that it gets it clean, but that it does so without a lot of hard work involved. That's a double hype whammy that will get people ordering this all day long.
The Cost
They've got a pretty straight up offer here, and don't mess around with a lot of fake BOGO offers where you have to pay shipping. In fact, all orders ship free and you get a total of four bottles of cleaning solution, each with their own specific application, all for $20. The thing we like most is that their guarantee covers everything, not just the original purchase price, but the return postage as well, so if you don't like it or if it doesn't live up to your expectations, you can send it back and get all of your money back.
The Commitment
Their main pitch is that this should reduce your commitment level when it comes to cleaning items around your home. By making it so that the cleanser is the thing that is doing the work, you shouldn't have to put so much elbow grease into what would normally be tough jobs. It's nice that it's broken down into four different bottles, because many times an all-purpose cleaner won't work as well on some tasks as it does on others. With this you can be more accurate and match the right product up with the right chore.
Evaluation
Super Clean gets relatively good reviews from those that try it out, with many users saying that it did the job and worked better than they were expecting. At this price point there's not really room for complaints, as it's likely to clean as good as or much better than the cleaning sprays you find in stores and supermarkets. The nice thing is that it's a biodegradable cleaning agent, so while it might not necessarily be a green product, it's not quite as harmful as some of the others that are out there.
The only real drawback that we see here is that you might end up going through the all-purpose kitchen and household bottles before you make it through the degreaser or grill cleaner, and it seems to only be sold in a four pack. Or you might have a big job lined up for the degreaser and might run out of that before the others. It would be nice if they sold them singly as well.
Final Super Clean Review
We're giving Super Clean our Thumbs Up rating. It's not every day you find a company that stands behind it's product so firmly, makes something that works, and includes everything you'll need to clean up around the house, all for a $20 bill. The time savings alone would be worth it, but having things properly cleaned in your home puts this one over the top and makes it a strong buy.
Our Recommendation
This definitely merits an at-home trial so you can see for yourself how well it works on the items you have in mind for it. Overall it's just a nice cleaning kit to have handy, as the four bottles it contains pretty much have you covered on all sorts of things that get dirty on a regular basis.
What do you think? Does Super Clean work or not?