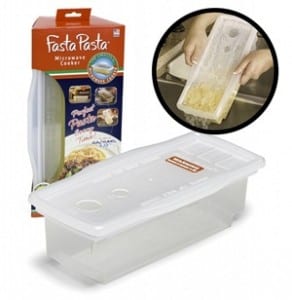 At the beginning of every year some trend experts like to speculate on what gadgets are going to take off for the upcoming year. The Microwave Pasta Cooker seems to fit into this category.
Overview
Microwaves are great for cooking food on the go. A lot of times though, it is really difficult to cook foods like pasta so they come out great tasting and are not hard, dried out or rubbery. The Microwave Pasta Cooker seems to have solved the problem. It is a quick and easy way to cook the pasta. It is a fairly large container but it gives you the options for cooking different portions according to what you need. The container fits in a microwave size 13 1/2 in. wide by 13 1/2 inches deep and 9 in. high or bigger.
The Claim
The promoters of the Microwave Pasta Cooker claim that your pasta will turn out beautifully. It can be used with a variety of different sized noodles. They say that it will cook evenly without sticking.
The Hype
Being able to cook the perfect pasta in a matter of minutes is enticing. You don't have to worry about the water boiling over. There is no heating up the kitchen because you are using the microwave. This method of cooking pasta is a real time and energy saver. All of these are what the hype via the promotion of the Microwave Pasta Cooker addresses.
The Cost
This product is really reasonably priced if you buy it from Amazon where it is currently being offered for $14.95.
The Commitment
The big commitment that you need to make with microwave cooking in general is not to over cook. You should check the pasta periodically to make sure it is cooking properly and how much extra time you need. Don't forget that the pasta varies according to the brand. Ideally you want to find a brand of pasta that you really like. Then master cooking this one in the Microwave Pasta Cooker. Once you do then you will never have to give it a second thought when using in the future.
Evaluation
Some people are against microwave cooking yet in the majority of homes you will always find a microwave. This is something that you have decide for yourself. For those that don't find anything wrong with this form of cooking, when used right it can be a real time and money saver. All too often there is not enough time to be able to cook full meals every night of the week. If using the microwave to cook properly is learned then it is possible to produce full meals. Cooking pasta is something that a lot of families do at least one night a week. Now with the good results that are being reported about the Microwave Pasta Cooker this just got a whole lot easier.
Final Microwave Pasta Cooker Review
We are going to give the Microwave Pasta Cooker a Thumbs Up rating. We believe that when microwave cooking is done properly that it can provide some great advantages to the home cook. This product is reasonably priced. It is getting some excellent feedback in reviews. Out of 1,254 reviews it has received a 4 1/2 star rating. This is quite impressive for a microwave product.
Our Recommendation
If you have decided that a microwave is a good resource to help you with your cooking, then we encourage you to really learn how to cook properly in it. Make sure that you always use the proper microwavable cookware, and cook according to the required times. We have talked a lot about microwave dishes in the past. Some have been reviewed well while others didn't live up to their promises.
What do you think? Does the Microwave Pasta Cooker work or not?