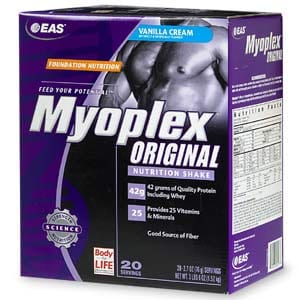 Myoplex is a protein shake and meal replacement associated with the Body for Life program, and originally recommended by Bill Philips. It is meant to give you a large dose of protein, but also include carbs and fat so that it is a rounded meal. It is manufactured by EAS, which has undergone ownership changes in recent years, so let's see if it's still the same product, and what people are saying about it.
Overview
Myoplex not only comes in powdered form, but also in ready to drink shakes, nutrition bars, and other products. It originally gained popularity because it was a suggested adjunct to the Body for Life program which advocates eating 6 times a day. Since most people don't have the means or the time to prepare 6 meals each day, this was said to be able to fill in for one to two of those meals daily so that your body always had a constant supply of protein and nutrients.
The Claim
Myoplex claims that it helps to rebuild the muscle that you break down during intensive lifting sessions. If you're following the body for life program, you're supposed to give it all that you've got for the last set of reps. This should be tearing up your muscles, and the rebuilding process is what makes them grow, get leaner, and give you the look you're going for.
The Hype
A lot of the hype for Myoplex has died down, but in the heyday of Body for Life it was one of the premiere products in the market. Bill Philips sold his interests in EAS and the Body for Life program and started the Transformation, which advocates using other supplements as part of an overall process of well-being.
The Cost
You can get a 12 pack of ready to drink Myoplex for $39, which breaks down to $3.25 per serving. If you'd rather mix it yourself you can get 20 servings in powder form for $50 or $2.50 a serving. So you save a few bucks, but you miss out on the convenience of a pre-mixed drink.
The Commitment
It was suggested that you should drink a Myoplex within 30 minutes of working out. However, recently it has been suggested that you should drink protein shakes 30 minutes before you workout, so that it has time to work its way through your body, giving your muscles the fuel they need in the moment that you are doing the lifting. You will have to do your own research to find out when the best time is to drink a protein shake.
Aside from that, your only commitment would be following a sensible eating plan when you're not drinking the shakes. They are not designed to replace all of your meals, and they are not a diet shake. If you just drink Myoplex and don't work out intensively, you will likely gain weight.
Evaluation
When evaluating Myoplex you have to size it up not only against competing products, but also against doing nothing at all, often considered the placebo. The best way to test against a placebo is to workout intensively for a few weeks, and measure your progress. Then try supplementing with Myoplex for two weeks and see if there is a difference. In our personal testing it did seems to make our muscles harder and more defined than by working out alone, although there was no scientific analysis, and this was just the way we felt, which can also be chalked up to the placebo effect, because we fully believed at the time that it would do something.
There is a lot of debate as to how much protein your body needs when you are exercising at intense levels. Many of the body builders and fitness models out there eat over 100 grams or protein and they calculate to the gram how much they need each day, and they make sure to consume that much. But for the average individual that is far too much protein and will be very taxing on the liver. If you are training your body at these extensive levels, you will definitely want to give it the food it needs to recover properly, so this is something to look into if that is your goal.
Final Myoplex Review
Myoplex is getting our Try rating, but only if you are following an intensive weight lifting program, like the one suggested with the Body for Life system. If you are just doing light exercise, it's too much protein. It's best to find a calculator, or ask your personal trainer or a nutritionist how much protein you need each day for the workout program you are doing or planning to do. You don't want to take in more protein than your body can use up, because this can cause complications and lead to things like gallstones.
They do have different versions of Myoplex, including a light version that is geared towards those that want to lose weight, and not pack on so much muscle. Check out their product line to see if they have something that fits your strategy.
Our Recommendation
The landscape of protein and meal replacement shakes is always evolving. Just a few years ago Myoplex seemed like it was better than all of the other whey protein options. These days there are some really great alternatives, so you shouldn't feel like this is the only option you have. Look at what's out there and size them up according to your own personal weight loss and fitness goals.
What do you think? Does Myoplex work or not?