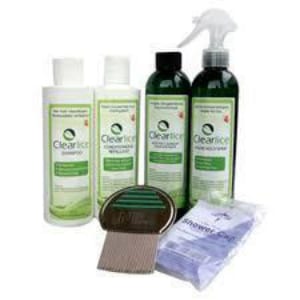 Clearlice says that it can work on lice in the first day that you apply it. This can sound like a blessing if you have been trying remedy after remedy with no luck, or if the problem has dragged out for weeks. But how did they come about this solution, and how can you be sure that it will work on your family?
Overview
If you buy in to the backstory, this came about by the founder's kid getting head lice, and after weeks of treatment with over the counter medication they still had the problem. So he set off to find a better solution, employed the help of his chemist friend, and two years later this was born.
The Claim
Clearlice says that it is doesn't use a pesticide the way many of the products out there do. And even without resorting to these sort of chemicals they have been able to develop a product that gets rid of lice and nits the first day you use it. They also claim that even if you've used a bunch of other treatments before, that this will work on the most stubborn lice.
At the same time it kills the lice, it's also being nice to your hair. After all, you're not waging war on the hair, just the lice that are residing in it. They say it not only rids you of lice from the head, but also around the home with their survival kit.
It's not every day that you come across an all natural remedy for head lice, and he does bring up the point that lice can become immune to the chemicals and ingredients that are in OTC treatments because they often don't kill the lice eggs, so the next generation is battle ready for what you're going to use on them. He says that with his formula lice can't build up a tolerance to it, which is why it kills off all generations of lice and does it's job from the start.
The Hype
You can't hype up a lice infestation. They are gross and will make your kid the social pariah at school, even at a young age. You don't want your kid to be the one that has cooties, there are better ways to build character.
The Cost
Clearlice is $75 for a complete kit that covers one sufferer and a small home, or $105 for four sufferers and a big house. We like that they've included this in a kit that covers all of your bases, because when you're fighting lice you have to fight them on all fronts. They'll quickly move from head to head by being transferred through bedding, sofas, couches, chairs, and clothing. Eradicate all of their domiciles with a comprehensive kit.
We like when a company includes the word unconditional in their guarantee, because that's the way it should be. This means that there's no reason they won't accept your return, you can even not like the way it smells, or not like the packaging, if you don't want to keep it you can send it back for a refund.
The Commitment
You have to resolve yourself to staying with this problem until it is nixed. The lice won't relent, so if you do they'll win. The only way they can win is if you quit trying, so even if you have tried a lot of different tips and tricks, you can't give up until they're gone.
Evaluation
We really like that Clearlice doesn't use any pesticides. This is really the best of both worlds because you are getting the pesticide-free nature of a lice comb, plus the effectiveness of a shampoo. Because they don't use any harsh chemicals, your kid's scalp doesn't get all itchy and irritated. This means that you can apply it without them putting up much of a fuss, during or after.
One feature that shouldn't be overlooked is that this doesn't contain any sodium laurel sulfates which are actually used in some lice treatments, and also double as shark repellent. This is also pH balanced so you know it's not going to cause any trouble to the scalp and hair.
While the FDA doesn't give it's approval to these sort of products, it's nice to know that they went ahead and had their lab certified by the FDA for quality standards. It's the extra step that is so rare for companies these days to take, and it provides some reassurance that you're buying from a company you can trust.
Final Clearlice Review
Clearlice is doing a lot of things right, and is the kind of company you feel good buying from. We like that they don't want your money if their product doesn't work, but what we like better is the high probability that it will work. We're giving this our Thumbs Up rating and advice you to try it if you haven't had success with any other method yet.
Our Recommendation
We recommend getting one of their complete kits, which can vary with the number of people that have them, and the size of your home. This has been designed not only to treat the lice on your head, but also to effectively eliminate them throughout the home so that you don't have a re-infestation. By following the included directions with each piece of the kit you'll be well on your way to a lice-free head and home.
What do you think? Does Clearlice work or not?