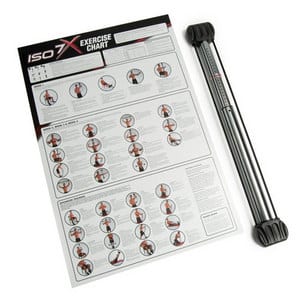 The ISO7X has been around in different forms for years now, and is based off of the idea of isometric training.This involves a static contraction as opposed to the dynamic motion used with regular exercises involving reps and sets.But can you really get an intensive workout, just 7 seconds at a time, or is this bar making claims it can't live up to?
Overview
If you're looking for a way to shake up your workout routine, this probably got your attention. That's because they show the guy not doing any reps, just holding the bar in place. Immediately this strikes you as something that could work if it is producing the resistance necessary to contract the muscle. It's funny how many products out there seem very logical, but then don't measure up when tried out in the real world. So let's see where this one ends up on the 'ol effectiveness meter.
The Claim
ISO7X claims that in just 10 minutes per day you can get lean muscles and that you'll be stronger, tighter, leaner, and that you'll get there faster than you can with other training methods.
The Hype
A lot of people are asking if this works, and wondering if something that doesn't look like a traditional weightlifting workout can be effective. There are also competing products that look and function exactly like it, so you have a sort of back and forth going on between the two sides saying one works better than the other.
The Cost
ISO7X is $28 shipped to your door. You can add on a second unit for $9 more. Compared to other exerise equipment sold online this is one of the lower priced ones you can buy. Many products come with installment plans and are 3-5 times more expensive than this. This can either be a good thing, or it can raise suspicion as to the quality of the product. It's from the makers of Iron Gym, so it's probably not a quality issue.
The Commitment
They say that you only have to use this for 10 minutes a day in order to see results. That is a very short period of time, and the thought is that since you aren't doing reps that you are saving time. Of course you'll want to watch what you eat and do some cardio as well to get the full results possible.
Evaluation
The ISO7X is well-built, and holds up when you put it through its paces. Most people that try it are happy with the way it performs. The consensus is that for the price it's not a bad way to spend a rainy day instead of going to the gym. And that's really all you can expect from a piece of home equipment like this. It's not designed to replace the gym, but more for when you can't make it there.
One major drawback that has been cited is that it doesn't come with an instructional DVD, just a wall chart that leaves much to be desired. The infomercial shows a ripped guy using it in all sorts of ways, but this isn't instructional, and it would have been nice if they took the extra time to put the different workouts on video so you use the proper form. But then again, that probably would have doubled the price.
We're going to side with NASA on this one and say that you'll probably get limited results with the ISO7X, and it shouldn't be used as your only muscle building activity. It's not their their product doesn't work, but that isometric exercise as a way to build muscle is not very effective. So while you may feel your muscles contracting, and it will be strenuous to hold it for 7 seconds, it is not going to make your muscles bigger the way that a full range of motion exercise will.
This seems to be another case of a fitness model posing with a piece of equipment that he most definitely did not use to get his physique. Although everyone knows this is the case, it would be nice to see a product demonstrated by someone that actually used it to get fit. That's why it's neat to see the actual people doing the Power 90 workouts in their home, because it shows the physique they have, and there's a high chance that they used that program to get in shape.
Final ISO7X Review
The ISO7X hits so many key features, such as being able to use it just about anywhere, and giving your entire body a workout. Unfortunately, NASA looked into isometrics as a way to keep their astronauts to maintain their muscles on long voyages. They concluded that it wasn't the right answer because on a molecular level the muscles were actually degrading. However, their findings are based on using this as your only form of strength training. When you combine this with traditional exercise, it can help you by contracting a different part of the muscles than you're used to.
Our Recommendation
You can still get this if you want something to get you by if you've got a big trip planned, or just to play around with. It folds up nicely and it does something, just not enough to rely on it for your only form of strength training. It complements a full range of motion workout routine at the gym, and is something that most people find fun to work out with.
What do you think? Does ISO7X work or not?