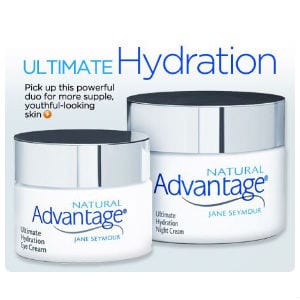 Natural Advantage is an anti-aging skin care system that says it can help diminish fine lines and wrinkles and improve your skin's overall appearance. But how well does it really work, from real users?
Overview
Most of us want to look our best, even when we're getting on in years. That's why there's so many skin care kits out there that say they can help fight Father Time and get back a more youthful look. It's always good to check to see what others are saying before jumping on board with a product. No point in being the guinea pig if others have gone before you.
The Claim
The claim that jumps right off the page for Natural Advantage is that in just one week you can have younger looking skin. What's more, this claim is guaranteed. They say that in a clinical trial almost all women saw visible results in just two weeks. They also say that all women saw improvement in the amount of fine lines and wrinkles they had. They go on to state that the majority of women had skin with fewer blotches and had a more even skin tone.
The Hype
Any anti-aging product will rely on the hype of the concept of being able to turn back the clock and look years younger.
The Cost
You can get a basic kit for $30 which includes shipping. There is also a "Deluxe" offer that is $40. Each option will enroll you for the their auto-shipment, auto-billing which is set up so that you get a 4-month supply every 4 months. They also increase the price on future orders to $40 for the basic kit. So 30 days after your first order you'll bee billed $170 which is for 4 kits plus $10 shipping. This will also occur four months later. Of course you'll also receive four month's worth of product so if you like it it's not such a big deal. But if you don't like it you'll want to be sure to call in and cancel.
There is a 60 day guarantee for the product, so if you don't want to keep it you can return it, and since shipping is included for free you'll be able to get the full amount back and only be out the cost of shipping it back. They allow you to return empty containers, so it's a real guarantee and not the kind where you can only send back unopened and unused containers.
The Commitment
You'd want to stick with this for at least the two weeks straight that they did in the clinical trial to see if you get the same results that are claimed. You should see enough of a difference in the first week to make it easy to stick with it for the next week. But this will require a daily commitment on your part. Luckily the system is easy enough to incorporate into your daily morning and evening routine so for most it's not that hard to stay up with.
Evaluation
The reviews on Natural Advantage seem mostly positive. There are instances where some said they didn't get the results they expected, and that can simply be a case of expecting too much. A good way to see how well a product like this is working is to take before pictures and then wait a few weeks and take some after pictures. That way you can really judge the effectiveness objectively and see just how well it's working. The mind is a funny thing and it can sometimes mislead you either way, either thinking that it's doing a good job when it isn't, or vice versa.
Finding an anti-aging system with positive feedback is not the easiest thing to do, and finding one at this price point is even harder. That's why if you give this a try and like the results you'd want to lock it up so you don't run out, making this one auto shipment that makes sense.
Final Natural Advantage Review
Overall, Natural Advantage is getting our Solid Try rating. Here's the rationale: Let's assume for just a moment that the information they provide on the clinical trial is a little exaggerated. Even if you get half the results that they say you will, or it takes twice as long to see those results, you'd still be getting good results and it would be worth it. So if you set your expectations at a reasonable level, and follow the system diligently, you should see good results.
They've set this up so that it's pretty reasonably priced, at least to try it out. For $30 or $40 you have the kit shipped to your door and can begin using it that night. The only thing that some people might not like is being billed for 4 months all at once. That might be more than some would like to have coming out of their account all at once, even if it only happens 3 times a year.
Our Recommendation
This is a good trial offer because it's low risk for the consumer, and because it is reasonably priced if you decide to stay on with it. You're covered for a full 60 days if you don't like it, but the majority of users say that it did make a positive difference to their skin and they are happy they bought it. Since you're not obligated to stay on with the auto shipments you can simply call and cancel when you've received as much as you want to receive.
What do you think? Does Natural Advantage work or not?