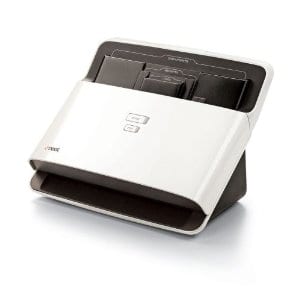 If your desk is inundated with paperwork, you might be in the market for a NeatDesk. This is a simple-looking scanner that is supposed to clear all of that clutter out of your life by digitizing the data and storing it on your computer. But how well does it work at clearing you out of the mess, and is it worth the price tag?
Overview
Scanners are nothing new and have been around for over a decade, but they do have some inherent limitations. They are basically copy machines that just take a picture of what you're scanning, and convert it into a digital image to be stored on your computer.
They work great for things like passports and IDs, so you can keep copies of them online. But for things like text documents, they leave a lot to be desired. The NeatDesk is a PDF creator, meaning that when you scan in a document you'll be able to print copies of it that look like the original. But that is just one of the features that sets it apart from an ordinary scanner.
The Claim
They are saying that it is more than just a scanner because of the software that comes with it. It takes your scanned images and can extract data from them. This would be useful, as you wouldn't have to visually look at each document you can in, and it will automatically sort your paper work, and allow you to search through it like you would a database. Pretty sophisticated stuff. So really what you are paying for here is not so much the hardware, although that seems to be pretty solid, but the software that runs it is where the magic happens.
Here's what the makers of NeatDesk have to say about themselves:
NeatDesk is a high-speed desktop scanner and digital filing system that will quickly turn all the paper on your desk into organized, digital files. More than just a great scanner, NeatDesk also includes patented Neat software to identify and extract key information from your paper files, then automatically organizes it in the easy to use database.
The Hype
The hype comes from the fact that this is basically a scanner, so the technology is nothing new. Also, with so many documents already being in PDF format, and receipts becoming digitized as technology improves, we should be experiencing a reduction in the amount of paperwork you receive.
The Cost
The cost of a NeatDesk is $400, but they also have the NeatReceipts system for $200, or you can get them both for $500. Not exactly the cheapest thing in the world, but if you or your business handles a lot of paperwork, this can be a Godsend and you'll never regret the expenditure when you see how much time it saves from from doing it the old way.
The Commitment
If you want to have a "neat desk", you will have to commit to using the product to the point where all of your receipts and paperwork have been scanned in. From there you'll have to decide what to do with all of that paper, either to shred it or recycle it, depending on the sensitivity of the data. Either way, you'll have to do some work to get to the promised land.
Evaluation
This software not only scans in your documents and paperwork, but converts them into an editable PDF. This allows you to make changes to your documents after they've been scanned in. It also pulls keywords and other data from them, so you can search through a mountain of paperwork digitally, and find what you're looking for in just a few seconds, without shuffling through a big mess.
Also, you can export all of this raw data into things like Quickbooks and TurboTax so that you can get additional help in making heads and tails of it all. During tax time, or end of the month reporting, you'll definitely appreciate these additional features.
Final NeatDesk Review
We like NeatDesk and it earns our Thumbs Up. It will definitely be a help for those of us out there that seem buried in paperwork, and spend a lot of time sorting through it all just to get to the information needed. Because of the software's ability to not only scan a document, but also read and sort the data on it, it is very useful. Surely, some businesses out there will consider this indispensable, but for you and your company it will be a judgement call you'll have to make.
Our Recommendation
The biggest thing you have to make a determination on here is whether or not the NeatDesk will give you enough efficiency to justify the price tag. Sure it's a one-off expense, and it should last you maybe a year or two of pretty heavy use, so be sure to factor that in to your decision.
What do you think? Does NeatDesk work or not?