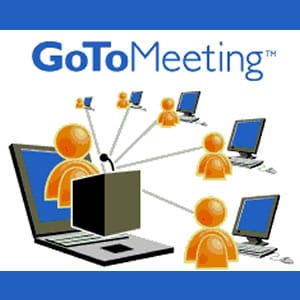 Sometimes a face to face meeting just isn't feasible, but if GoToMeeting has anything to say about it, you really won't miss them too much. They claim to be able to pretty closely replicate a meeting, conference, training, and more all from where you are, without having to book flights, rent cars, stay in hotels, and go through the motions of traditional meetings. But does it really work, and can you get just as much done with one of their virtual meetings?
Overview
They say the world is flat now, meaning you can collaborate with anyone, anywhere on in the world. Location is no longer a limiting factor in who you work with, hire, or work for. With a service like GoToMeeting in your arsenal, there doesn't seem like there's too many restrictions on how often you can meet with a group, no matter where everyone is located. Your biggest concern will be coordinating all of the time differences so it's convenient for everyone.
The Claim
GoToMeeting claims to be able to offer HD video web conferencing, reducing your need for a real life meeting, and include up to 15 co-workers, employees, or colleagues. You can share anything that's happening on your computer screen, and do it all in real time, with audio. Meeting attendees have a host of different options for how to connect to the meeting, including all of the latest gadgets like the iPad, iPhone, or Android smartphones, and of course from a notebook or desktop PC or Mac.
The Cost
GoToMeeting is $50 a month after your free one-month trial. For that price you can host as many meetings as you want. This is pretty impressive, since they could easily run this on a per-meeting basis and really rack up the cash.
The Commitment
Setting up and using GoToMeeting is easy enough, but you've still got to get past the learning curve. There are several features that can make your meetings go much more smoothly, and playing around with all of them for an hour or two will yield many benefits as you go forward.
Evaluation
The GoToMeeting software downloads and installs very quickly. Once it's up and running you just click on Meet Now and your meeting starts. You then need to invite who you want to join your meeting by sending and invitation, either by phone, with an email, or instant messaging them. I always choose email, because it's easiest for me. You then have the option of what you want your attendees to see. You can turn your webcam on, so they can see you as you talk to them.
You can show them your computer screen, so they can see what you're talking about, and how you're using a program. You can also link it up to a specific application, or on a particular document, so you can go over facts and figures, monthly projections, or last month's numbers.
One neat features is that as the host you can control who gets to interact, so if someone else has something to share, you can switch it to their screen and
GoToWebinar
– Go To Webinar uses the same sort of technology as Go To Meeting, but it's specifically designed so that one person or a few people will do the talking, and the audience mostly listens, and asks questions by raising their hands and using the chat box. Audience members can also be synced in with audio if they want to ask a question, and moderators can activate and their microphone and then mute them again when they've finished asking their question.
GoToTraining – GoToTraining is similar to GoToMeeting, but it has added features and functionality so that you can have your employees complete their training remotely, saving the need to meet with them to train them, or to send a trainer to them for training. This can be a huge cost savings for many businesses.
Another Option
With the emergence of Hangouts from Google Plus, GoToMeeting has to be feeling a little bit of heat. Hangouts allow you to video conference with up to 15 of your friends all at once, and you can see them and take turns talking. With their Circles feature you can make sure that only your business contacts can see that you're having a Hangout, keeping a separation from your business and personal life. Just something you might want to look into as an alternative.
Final GoToMeeting Review
GoToMeeting works like you'd expect it to, but of course you will want to check your system requirements so that you know you can use their service without interruptions, and without any glitches. Many of the low reviews are likely due to people trying to hold a meeting on a system that doesn't have enough power or memory to handle the application.
Our Recommendation
GoToMeeting has been around for a long time now, and has thousands of satisfied users. Their software makes it pretty easy for most people to use, and conduct online meetings, getting the benefits of a meeting without the expense and inconvenience of meeting in person. At just $50 a month to host unlimited meetings, this can quickly become an essential addition to any office's budget. In your one-month free trial you definitely have enough time to host a few meetings to see how well it works for you and determine whether you want to stay on or cancel.
What do you think? Does GoToMeeting work or not?