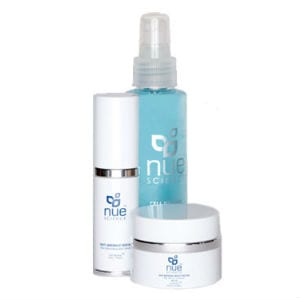 Nue Science is an anti-aging kit that includes a toner, serum, and moisturizer and promises that your skin will look noticeably younger.
Overview
There's no shortage of anti-aging systems on the market, and you can only expect this trend to grow over the coming years, as more and more Americans progress through their golden years due to the baby boomer bulge in the population. What's interesting is that many of them have their own idea about what is causing the problem of looking older than your chronological age would suggest. It's worth taking a look at what Nue Science is saying is the cause of the problem.
The Claim
They claim that their 3 part system works to help correct the three problems they see as what is standing in your way to younger looking skin. First, they say that genetics plays a large part in how your skin ages, which is helped by their Age Repair Serum. They also say that hormonal fluctuations are partly responsible for the signs of aging. It's not exactly clear which of their products helps with this aspect. Lastly they say that environmental pollutants are to blame for faster aging of the skin, and they have a toner and a moisturizer to both heal and protect the skin from outside influences.
The Hype
Every anti-aging product has hype surrounding it because it is the age-old Fountain of Youth that we're all chasing, and have been since Egyptian times and earlier. No one wants to look old if they can help it, and definitely not older than they really are, so there is a strong desire and motivation to buy and try anything that sounds like it might help turn back the clock, even just a few years.
The Cost
Nue Science is sold a few different ways. You can buy it outright for $160 and you'll get all three parts of their system. It seems many people go for their trial offer which involves paying only $6 shipping and handling up front, and then getting charged $98 if you don't cancel within 16 days. When choosing this option they also subscribe you to their auto-shop program and bill you $104 a month for 3 months and send you three more monthly supplies every 30 days. This is the first time we've seen a company voluntarily stop an auto-shipment after 90 days.
It seems that a few years ago people were complaining about charges to their account and were not made aware that they would be signing up for a subscription, or that they had to call in and cancel if they were not happy with the trial. What is more likely is that they thought they had a full 30 days to trial the product, since you are sent a full month's supply. It's a rather short trial window, seeing how anti-aging products typically take a while to work, but perhaps the company is confident that you'll see enough results in two weeks' time to keep it.
If you buy the kit straight up for $160 you get a 60 day money back guarantee on it, so you're paying more but getting a longer trial period.
The Commitment
The trick with anti-aging products is you have to use them as directed and for the long term. Aging signs don't appear overnight, and they don't go away overnight either. Since time is always working against you in this regard, you have to be just as diligent and bring the fight daily. Expecting a product to work wonders in the short term is illogical, even if this is one of the claims being made.
Evaluation
Nue Science seems pretty confident that they've developed a three part system that has you covered on all aspects of aging skin. And really you should be using a toner, repair cream, and moisturizer every day or you're not doing everything you can to help fight the aging process. Since you'd have to source these three products from other companies, it's nice to be sent a kit that has them all in one. For around $100 a month it would be hard to find 3 separate products that work in conjunction with each other, so taking them up on the trial offer seems a good way to go, since you lock in a lower price if you like it.
When you dig past the complaints that are several years old and not about the product itself but rather the ordering process, you'll see that the system gets good feedback and the data suggests that you'll have a good experience with it as long as you maintain reasonable expectations, which can be hard to do when you're talking about wrinkles and fine lines.
Final Nue Science Review
Overall, we're giving Nue Science our Solid Try rating. It seems that they've cleared up the problems people were having a few years ago, and lately have been satisfying most that try it. It's important not to write off a company just because of a few complaints early on, as long as they've shown to have corrected course and are now back on track.
Our Recommendation
You'll have to decide which way you want to order, either on the trial basis or just paying for it upfront and then having 60 days to make up your mind. For us it makes sense to be covered for a longer time, but if you're good about keeping track of how many days you have left and remembering to call in to cancel if you don't like it, go for the trial. We always forget about that stuff and then it's a hassle to try and get it cleared up.
What do you think? Does Nue Science work or not?