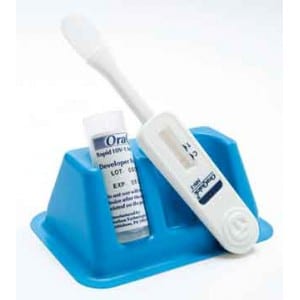 OraQuick is an at-home HIV test that promises you won't have to use any blood, and you won't have to send it in to get your results. Similar to an at-home pregnancy test you get your results shortly after taking it. But unlike that test no fluid is involved, and you simply swab your gums. So how accurate are the results?
Overview
Until now there weren't too many great options when it came to getting an HIV test. You could either go to your doctor or a clinic, but this isn't very private. There have been at home tests on the market for several years now, but they require blood samples, and you need to mail them in in order to get results. So basically you were left with the choice of the embarrassment of going to the doctor, or the pain and waiting of doing it on your own at home.
The Claim
OraSure, the makers of OraQuick, say that they've been the trusted brand of HIV testing used by healthcare facilities for years, they're just now making it available to use in your home. They say that this is the same type of test that doctors have been using for nearly a decade, and that you can get your results in the privacy of your home, and in 20 minutes after taking the test. No mailing required, no blood required, just a simple swab of your upper and lower gums.
The Hype
The hype is that finally you can get the answer you need from the privacy of your own home, and without the need to submit any blood samples. These have been the two major reasons that people have cited for not wanting to get tested, aside from being afraid of getting the results back.
The Cost
The $40 price tag on OraQuick is the one major drawback that is cited by users. For a product of this nature it would be great if they could make it more accessible to more people by putting it at a price more people could afford. When you consider that this is the only oral HIV test on the market, it becomes clear that they're making you pay for the convenience of not having to take a blood sample, and not having to mail in the kit and wait around for the results.
The Commitment
This is where the OraQuick really shines. It only takes a few minutes to complete, and you get the results right away. Compared to earlier versions of HIV tests where you had to give blood samples, or you had to mail the kit away and wait for your results, your commitment level on this is almost zero, simply swab your gum with the included Q-Tip and follow the instructions from there. The instant gratification of having the results available almost immediately is something that can't be overlooked.
Evaluation
The OraQuick kit comes with everything you need, not only to complete the test but to get your answer as well. They say you should find a place where you can have some privacy for 20-40 minutes. They have it set up so that it's all paint-by-numbers easy, but there are a few things that might trip up some people. For example, you can't spill any of the testing liquid, and you can't swipe over your gums more than once. This means you have to get a few things just right in order to make sure that you get the right results. This isn't something you want to take lightly, and if you do make a mistake during the testing process it's important to start over with a fresh kit.
It's nice that they provide a toll free customer service center so that if you have any questions during the entire process you can call in and get an informed answer. It gives you the feeling that even though you're taking the test alone, you've got backup in case there is any confusion along the way.
Final OraQuick Review
OraQuick is getting the Thumbs Up rating from us, based on the overwhelming number of positive feedback, the approval of the FDA, the ease of use, and the speediness of the results. It seems they are doing their best to bring a lab-quality kit to your home so that you don't have to visit the doctor or clinic in order to get tested. It's not exactly 100% foolproof, and there are a few things you need to make sure of when you're taking the test, but overall if you follow the steps accurately you should get an answer you can rely on. Of course if you're still left with doubts and need further peace of mind, you can always go in and get tested by a professional.
Our Recommendation
It's important to find out if you're HIV positive or not, if you suspect there's a chance you might be. For your own health, and the health of those in your life, it's important to make the right choice and now you have a way to do it quickly and easily and without the embarrassment of going to the doctor. They've made large strides treating HIV and AIDS so you owe it to yourself to find out as soon as you can so that you can begin treatment and increase your chances of having a healthy future.
What do you think? Does OraQuick work or not?