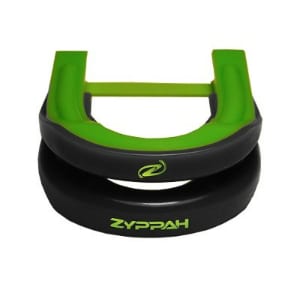 Zyppah RX is an anti-snoring device that says it provides a custom fit and has two features to try and solve your problem. On paper this would put it a few steps ahead of similar devices, but let's see what the verdict is on whether or not it really works.
Overview
Snoring creates a problem not only for you, but for those around you, especially your partner. Getting the snoring to stop can make for a good night's rest not only for you but for other members of your household. If your snoring has been putting a strain on your relationships then you definitely owe it to yourself to try to find a solution to get back the normalcy to your life.
The Claim
The most impressive claims being made by the makers of Zyppah RX are that it stops snoring instantly, from the first night that you use it. They also say that it's 100% guaranteed, and that you're able to try it for free, but of course they do charge you for shipping. They say it is the result of over 10 years of research, and that it was developed by a dentist that has turned most of his attention on helping to solve snoring and sleep apnea.
The Appeal
Long-time snoring sufferers would definitely be interested in a product that works right away, and one that doesn't disturb their natural sleep cycle. Some people can't get to sleep with a snoring device in their mouth, since most are made from hard plastic. Higher priced, custom-fit models are supposed to solve that problem, so the Zyppah RX is getting you the best of both worlds since it is supposed to provide a custom fit while still being inexpensive, relatively speaking.
The Cost
There is some flexibility to how much this costs, with a total price of $80 or $90 depending on if you pay all at once, or in payments. If you want to try it out first without putting a lot of money down upfront, you can choose their $10 trial offer, which sends you the device for $10, and let's you try it out for 30 days. If it's working out for you and you keep it they charge you $40 twice for a total price of $90. If you just want to get on with it you can pay $80 with no more payments, and are still covered by the 30 day guarantee.
The Commitment
This is where most people will have trouble staying on with it. Getting used to having something in your mouth all night while you're sleeping can be hard. It can also fall out several times, making you put it back in if you wake up in the middle of the night. This can cause you to get broken sleep as well, and you might feel that you're trading one problem for another. But if you stick with it long enough you'll get used to it, and you'll find that it doesn't pop out as often, or keep you from falling asleep.
Evaluation
Because it works on two different levels, you're likely to get a better experience from using Zyppah RX than you would with other guards that just work to move your jaw forward. Most devices use this method because it's easy to see that it's effective, if it can be done right. You can even test the theory out for yourself right now. Simply lie on your back and let your jaw relax. You'll find that pretty soon you'll start to make that distinctive snoring sound. Now simply bring your jaw forward. You'll notice that the sound goes away and the airway reopens.
They're taking it a step further by making it so your tongue doesn't get in the way either. The combination of keeping your tongue clear, and keeping your jaw forward is one that works. They say it doesn't initiate the gag reflex, even though it's keeping your tongue from moving into the airway.
They accomplish the customized fit by making this "boil and bite" meaning you boil it to soften it up and then bite down as directed so that it molds to your teeth and always fits right in place. If you compare that to a snoring product like ZQuiet where it isn't custom fit and is supposed to stay put in your mouth, it's up to you to determine which approach would be more effective. This boiling method is pretty popular, and is similar to the way they'd fit you at the dentist's office.
Final Zyppah RX Review
The Zyppah RX is getting our Solid Try rating. They've done all they can to make this a must try, putting the cost down to just $10 to try it out. Most would agree that if it's working in the first week they'd happily pay the remaining balance to stay snoring-free. Since it's supposed to work from the very first night you have plenty of time to evaluate it with the 30 days they give you.
Our Recommendation
Solving the snoring problem usually takes a multi-tonged approach. We've seen people get success by making a combination of adjustments to the way they sleep, and often this includes the use of both a snoring device, as well as a special pillow. Others only find success if they switch to being a side sleeper. Since this product combines two different tactics to help rid you of your snoring, it might be all that's needed for effective relief.
What do you think? Does Zyppah RX work or not?