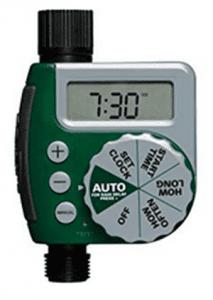 Even if spring has not arrived yet once the bulk of winter has passed its time to look at what is going to be needed for the outdoor maintenance. Particularly when it comes to tending the garden and the lawns. For many, this means having a good water system. To help with this may be the Orbit Hose Faucet Timer.
Overview
The Orbit Hose Faucet Timer is a single dial water timer. It has to the ability to allow you to time the watering of your garden and lines. No longer do you have to stand there and wait until the watering is finished so you can turn the water off. This device will do it for you.
The Claim
The promoters of Orbit Hose Faucet Timer are saying that it is fully programmable and user-friendly. It is made of top quality materials. Basically, it allows you to turn your standard hose into a timed sprinkler system.
The Hype
There is a lot of hype that revolves around the Orbit Hose Faucet Timer. When used properly it can save money on water as well as time. Not to mention it can help to prevent a lot of damage that comes with over watering.
The Cost
The cost of the Orbit Hose Faucet Timer is $38.99
The Commitment
You will find that there is a less of a commitment needed with the Orbit Hose Faucet Timer compared to watering in the traditional manner. Once it is programmed, it can be left to do its work.
Evaluation
There are a lot of great benefits that come with the Orbit Hose Faucet Timer. Consistency is one of them. The areas being watered will receive the watering at the same time each day. This can be hard to do with traditional watering methods. It also can be programmed for a rain delay. It has a large LED screen for easy reading and programming it is an easy process. Perhaps the only downfall is that it is a battery operated device. However, this is not a big deal. There are also options for single, double or triple outlets. For the rain delay, this is a manual function where you have to change the timer. It doesn't automatically know that it has rained.
Final Orbit Hose Faucet Timer Review
We are going to give the Orbit Hose Faucet Timer a thumbs up. It is reasonably priced and is quality made. Its ease of use is a real bonus, and it serves an important purpose. There are 463 reviews giving a total of 4.5-star rating. 73% have given it a five star. Which is pretty significant for a product such as this.
Our Recommendation
A product like this is also going to require a good hose. There are plenty to choose from, and you may want to look at some of the commentaries we have about water hoses.
What do you think? Does the Orbit Hose Faucet Timer work or not?