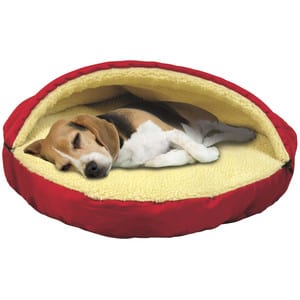 The Pet Cave is a specially designed doggy bed that is supposed to make your dog feel safe and secure while they sleep. It's nice to give your dog a place of their own to sleep, and this can help break them of the habit of trying to sleep with you in your bed, if that's what you're trying to do. But there are a few problems common with most pet beds, namely keeping them clean and making them last, so lets see how well this one stacks up to the rest.
Overview
There are all sorts of pet beds out there, and they all try to make the case that they're the best one for your dog and cat. Of course you can get one that doesn't really play any angle, like a traditional dog bed, but these come with some inherent problems. For starters, your pet might not take to it, and that would make it a wasted purchase. If they do like it you then have to worry about keeping it clean, and hoping that it stands up to wear and tear.
The Claim
The makers of Pet Cave claim that their bed is the right choice because it is soft and comfortable on the inside, and durable on the outside. It's 24 inches in diameter, so that will tell you if it will be big enough for your dog. Many of the medium to large sized breeds will find it too small, and won't take to it, so this is an important consideration. They say that it's machine washable, which should make it relatively easy to keep it clean, which is good because nothing attracts hair, slobber, and accidents like a dog's bed.
The Hype
Pet owners want the best for their pets and that makes them susceptible to all sorts of products that promise a better life for their dog or cat. When it comes to lifestyle, a soft and comfy place to sleep ranks near the top. That's why a good pet bed will always be able to find it's place on the list of things we want to buy. If you've had a few bad experiences with pet beds, either because they didn't last as long as you'd hoped, or they became super messy and there wasn't a good way to clean them, you'll definitely be all ears for a fix.
The Cost
The Pet Cave is $40 which includes shipping, and puts this pet bed on par with other competing options.
The Commitment
All that you should have to do is get your pet to start using this. If they don't take to it immediately there are some tips and tricks you can do to get them to start using it. If they already have their preferred location, you can place the bed in that spot and they should get the idea. If they just don't seem to like it, you can try to entice them but the best way is to just stick to your guns and use repetition until they understand. Putting their favorite toy in the bed can help them learn to spend time in it.
Evaluation
They've done their homework when making the Pet Cave, making it durable on the outside, but still making it soft enough for your pet on the inside, all while making it machine washable. It would be nice if they offered multiple sizes, but they say that with zipper you can adjust it to the size of your pet. This works, but only to a point, as a larger dog just isn't going to be able to get themselves into it, or get comfy once inside.
It's natural for a dog to choose spot to sleep that makes them feel secure, and many times they like to sleep against a wall so that nothing can sneak up behind them. By providing that feeling of being safe and cradled, this bed makes a good choice for a small to medium sized dog. You can also consider the Bunga Bed, which has the same dome to it, but has the design of a shoe and is a bit bigger as well.
Final Pet Cave Review
The Pet Cave is a reasonable buy, as long as your dog is a good match for it. If you have a cat and you know that they're willing to sleep in a bed, this is a good one for them because it's very soft on the inside, and they'll like relaxing in it. The one drawback about it is the price. At $40 there are plenty of other beds to consider, and there's not anything really unique that sets this apart from other models you'll find in your local pet store.
Our Recommendation
Go with your gut on this one, if you thought your furry friend would like this when you first saw it, chances are it will be the right size for them and they'll enjoy it. But if you're still on the fence there's probably a reason for it. Either it will be too small, or you'll have too much trouble getting them to use it. The price is at a point that puts it on par with pet beds you'll find at the pet store, so you might want to buy a bed in person so you can feel it and make a better determination of what to get.
What do you think? Does the Pet Cave work or not?