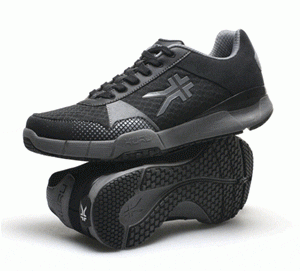 There are a large number of people that suffer with many different types of foot problems and one of the most common and also the most painful is Plantar Fasciitis. What if there were actually footwear that was available that could really help with the pain and discomfort of this condition?
Overview
Plantar Fasciitis shoes are designed specifically to help those with Plantar Fasciitis which is a painful heel condition. There are many different shoe designs that are being promoted to help bring some relief, but it seems some are better than others.
The Claim
One promoter of Plantar Fasciitis shoes is Kuru Footwear. This is a company that is claiming that they are becoming quickly recognized as the producers of footwear that is #1 for plantar fasciitis. This is due to their trademarked Kurusole technology.
The Hype
The Plantar Fasciitis shoes produced by Kuru is comprised of a unique heel and arch support that helps those with plantar fasciitis.
The Cost
There is a great selection of the Plantar Fasciitis shoes to choose from and they are available for both men and women. They range in price for most being in between $115 to $145.
The Commitment
Chances are once you start wearing these Plantar Fasciitis shoes you are not going to want to resort back to wearing your standard type shoes.
Evaluation
Plantar Fasciitis is heel pain which can range from moderate to severe. It can really interfere with an individual's daily lifestyle. Often it is difficult to correct and to find any type of comfort when it comes to footwear. That is why taking a look at Plantar Fasciitis shoes is so important. The other big issue with this type of foot condition is that it can strike any age or gender. For this reason having a good selection of shoe sizes as well as those for both men and women is a big bonus.
Final Plantar Fasciitis Shoes Review
We are not only going to give Plantar Fasciitis Shoes a thumbs up but we are also going to give a Thumbs up to Kuru Footwear for developing shoewear that really addresses this painful foot problem.While this foot condition is often brought on as a result of an injury it can also be present based on genetic factors or other health conditions that are affecting a person's gait. For these people especially they really want to consider investing in this speciality shoewear, as they will need it on a continuous basis. For those that have a tendency to have weak heels using the Plantar Fasciitis Shoes on a regular basis many turn out to be a big preventative of future problems.
Our Recommendation
With shoes being such an important party of our anatomy we have on occasion talked about other shoe wear that may be beneficial. One of these was Cushe Shoes, which is getting some decent positive feedback. It is so important that you look after your feet because if they begin to fail you then you are really looking at altering your lifestyle. The heels of your feet can become painful just from having to stand on your feet all day, so this may be another good reason for really thinking about investing in Plantar Fasciitis Shoes
What do you think? Do Plantar Fasciitis Shoes work or not?