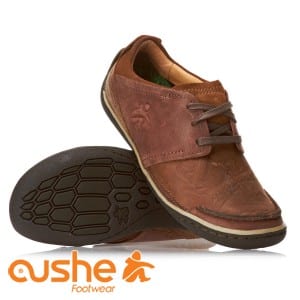 Cushe shoes are based on a laid back, surfer dude style that tries to promote a feeling of carefree living. When stuck in a cubicle or other soulless job you might like the thought of letting your footwear be your one respite, but can something like this really help you get that "go with the flow" mentality when surrounded by a post-modern world?
Overview
Wolverine World Wide is the manufacturer behind Cushe, and the last three years have been the best for them financially over the last decade. They seem to be on the rise, and the Cushe brand is definitely contributing to their success. Originally conceived in 2004 in the UK, the brand is now in the process of spreading globally. There's definitely room for one more shoe brand in the United States, as we just can't seem to get enough of just about everything. Zappos has already embraced them and has a long list of Cushe products available.
The Claim
Cushe doesn't make any real specific claims about their footwear as a whole, other than some of the philosophy that's gone into the design. Some of the elements that go into the construction of the shoes, like kick plates, waterproofing, and shock absorbing materials could be trumpeted if they felt like it, but they are rather understated in the sales process.
There a few claims though, that should be noted. They claim that they are a group of shoe designers and enthusiasts, and they also claim that they have the know-how to develop technologically advanced shoes with the latest manufacturing methods. What's unclear is if this is a sort of band of rebels that was working for big shoe companies and disbanded, forming their own company, or how exactly they decided to start a shoe company.
The Hype
These shoes have been getting a lot of attention recently, which is odd because they don't really "do" anything. They don't have an odd gimmick, and they aren't trying to reinvent the wheel here. They are basically your average piece of footwear, just in different designs that you might not be used to seeing.
The Cost
Cushe shoes range in price from around $50 to $140, but they also have sandals and those can range from $22 for a pair of flip flops to $85 for their most expensive pair of sandals. They have also tried their hand at making boots, which fall in the above price ranges as well. Overall, they're pretty competitively priced for the premium shoe market.
The Philosophy
The undercurrent of all of the shoes they carry is that they're going for a dynamic, and inspired look for a new generation. They're not very specific about which generation this is, but they are trying to bring something new and different to the table that separates them from traditional shoe manufacturers. It shouldn't be too hard, because there are a lot of people that would rather buy shoes from a smaller upstart like this than from a multinational corporation like Nike, because of the common thought that Nike shoes get manufactured using child labor or other undesirable working conditions for some third world people.
An Extensive Product Line
They are not fooling around here. They have many different models of shoes, as well as different footwear types. They also cater to both men and women, each with their own long list of shoes. Some manufacturers find it hard to come up with so many different models of shoes, since no two are really exactly alike. IT's easy enough to mass produce millions of shoes when they all look basically the same and just change around a few design elements. With Cusche it's like they clear the drawing board and start from scratch with each one.
It's not just the design that changes, but also the functionality. There are shoes that you'd want to wear for long hikes in the woods, but there are also shoes that are more for walking around a city while sightseeing, or that you'd wear on your day off for running errands.
Evaluation
Cushe shoes get good reviews from users who say things like they feel like they're not wearing shoes at all, or they provide proper support for things like hiking. It's interesting that they not only make shoes, but also sandals and boots, because these are really two separate markets that companies can make an entire business out of, for example Birkenstock with sandals and UGGs with boots. Although everybody does usually end up making everything eventually.
Across the Pond
It's interesting when products originate in the UK and then find their way to the USA. The cultures are similar enough, but there are also enough differences that it's not always a guarantee that something that is successful in England will have the same sort of success in the states. There are too many factors that can make things go sour. But in this case the styles seem to resonate with Americans and they are seeing initial success with their shoes here.
Final Cushe Shoes Review
Cushe shoes aren't just a pretty face. It's easy to get caught up in the look of these shoes, because design-wise they do look better than a lot of the mass produced shoes by the likes of Nike and Reebok. But the way a shoe looks is only half the battle, and it's got to feel comfortable and provide support at the same time or it's sunk. These shoes seem to be succeeding on both counts, and winning fans as they go along.
Our Recommendation
These are a solid choice as far as footwear goes. They have many different styles to choose from, and as far as comfort goes most people say they feel great, and provide the necessary levels of comfort you'd expect at this price point. Also, if it resonates with you, it's a nice design that can make you feel good wearing them, and feeling good is what it's all about.
What do you think? Do Cushe Shoes work or not?