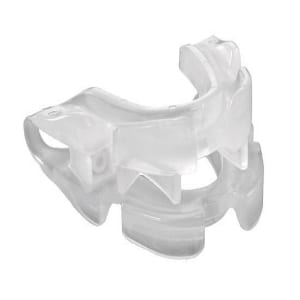 The VitalSleep mouthpiece says that you can finally get the sleep that you need without being disturbed by your own snoring. It also says that your partner will benefit from the effects as well. But how well can a seemingly simple device like this actually work?
The Claim
VitalSleep claims that one of its biggest features is the ability to fully customize it to your own mouth and jaw. This is unlike other one-size-fits-all units out there that say you can just pop it in your mouth and it will work. They say that you'll wake up feeling more refreshed, and that the quality of your sleep will improve many times over.
They say it works by pulling your jaw forward while you sleep, so that it keeps your airway open. This is one of the most common methods to prevent snoring, and is the approach taken by many different devices, including the ones that you'll get from your dentist. They say that this is far more affordable than going with the kind that your dentist will sell you.
As far as safety concerns go, they say that this is latex free, which is great for anyone with an allergy or sensitivity to latex. They also say that it is BPA free, so you don't have to worry about the potentially harmful effects from that. They also say that it is cleared by the FDA, and that they had to prove not only that it is safe, but also effective in order to get clearance.
The Hype
Snoring is a big problem for many people, so any product that promises a fix will get some hype from people desperate for a solution. This product is no different, although they are pretty good at keeping their claims to a reasonable level.
The Cost
You get two VitalSleep unites, plus to cases for $50. It comes with a 30 day money back guarantee, so you don't have to worry so much of whether or not it works, you just have to try it as a potential solution to your snoring problem.
The Commitment
After you form fit this to your mouth, and make the minor adjustments with the wrench, you simply need to wear it each night to prevent snoring. Because of the custom fitting, it should stay in your mouth more consistently, and after a few nights of wearing it you probably won't notice it's there any more, or you might notice it's there, but be glad because of the results it provides.
Evaluation
The VitalSleep is one of the mouthpieces that you heat up in boiling water and then custom fit to your mouth. On top of that they include a hex wrench so that you can move it right where you want it, and then have it stay in place. Many people that have tried it say that it helped, and of course there are people that tried it that said it didn't. It's just the nature of a stop snoring aid, it's bound to get mixed reviews.
The only potential hang up here is if you're sensitive about having a piece of plastic in your mouth all night. Some people find it hard to get to sleep or stay asleep with a foreign object in your mouth. Even though it is designed in a way that you can't swallow it, it is still sometimes hard for some people to get used to, even with repeated attempts.
However, if you can get over the idea of having this in your mouth, you're in luck because mouthpieces have been shown to be an effective treatment for snoring, so in all likelihood that answer to your snoring problem lies in an oral insert. Moving the jaw forward is one of the most effective treatment of heavy snorers, and there's only so many ways you can go about moving the jaw where you want it.
One alternative that uses the same method of pulling the jaw forward, but works from the outside is
My Snoring Solution
. It seems to have been devised specifically for people that don't like wearing a mouthpiece all night. However, it will likely have a similar number of people not liking the fact that they have to wear something on their head all night. So it seems like it's mostly figuring out what you can tolerate, and what you can't, because many manufacturers seem to be in agreement with what is causing your snoring problem, and they just take different paths to fix it.
Final VitalSleep Review
VitalSleep is getting our Try rating, as it has enough positive feedback to suggest that it does indeed work, or at least has the ability to work for some people in certain situations. The method it uses is sound, and is the same approach taken by professional grade snoring solutions. The price is affordable for many, and with the 30 day guarantee in place you have plenty of time to evaluate and decide if you want to keep it.
Our Recommendation
This should definitely make it onto your short list of snoring solutions to try. It's not so much a matter of finding the one anti-snoring solver that is better than all of the others, it's a matter of finding the one that works for you, with your specific snoring situation. So keep the process of trial and error going, because one of these is bound to work for you, and once you find it you'll be glad you didn't give up the search.
Official Website: VitalSleep
What do you think? Does VitalSleep work or not?