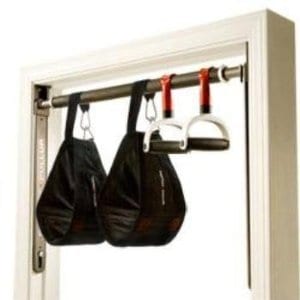 The Perfect Pull Up Straps are supposed to give you the ability to do suspended ab exercises from your home, instead of going to the gym. They do this by attaching to a pull up bar, allowing you to support your weight with your upper arms, and effectively getting your legs off the ground. This immediately adds resistance in the form of the weight of your legs, which can go a long way in building and defining your core muscles. But how well does it work in action? We'll show you.
Overview
Working out the abs can be dreadful, but mostly because there's only so many ab workouts that you can do on your own, at home. If you go to the gym they will likely have an assortment of different machines and gadgets that you can use to work out your core, but you shouldn't have to feel like you're being forced to go to the gym just to get a good ab workout. Increasing your at-home options is key, because it removes a lot of the excuses, like it's too cold to go to the gym, or the gym is too far away to justify going only to work out the abs. When you have a good workout system for your abs at home, you tend to do more abs exercises.
The Claim
Perfect Pull Up Straps don't make many big claims, they basically say that you can perform suspended ab workouts from home. All of the results you'll get will depend entirely on whether you get up there and do the exercises, so it would be kind of silly for them to say that you can get a six pack with their system.
The Exercises
If you've never done any sort of exercises like these, you might be in for a surprise. If you're used to doing floor crunches or even using a Swiss ball to do your crunches, you might find it pretty challenging to lift your legs up to your chest. This is because it uses your entire core section, and also introduces your body weight to the equation. When you do a crunch you are basically just lifting your head and shoulders slightly off the ground. With suspended leg raises you are lifting up your legs, which are pretty heavy. You might not realize just how heeavy your legs are until you try lifting them up off the ground!
By turning your legs to the side you are hitting your oblique muscles, and these are important not just for your overall fitness level, but because they are some of the first muscles that are visible when you lose enough weight from your midsection. If you're going for a six pack, or if you just want a flat tummy, your obliques will be some of the first muscles you see moving beneath the surface.
The Cost
Perfect Pull Up Straps are not too expensive when you compare them to the cost of a gym membership. Sure, they're not going to replace all of the equipment in a gym, but they will help round out your home gym attempt, and give you a few new exercises in your arsenal. You can find them for around $30 at different online retailers.
The Commitment
Working out your abs is hard enough as it is, but these exercises are pretty hard to do. You should start off slow and try not to get frustrated if you can only do them a few times before tiring out. The abs are one body part that you can work out every day. They don't need a recovery period, so just use this daily, and you'll gradually see an improvement in how many you can do back to back.
Evaluation
The Perfect Pull Up Straps are easy to set up and start to use. It might take little while to get comfortable with the idea of hanging from your door frame, but once you build up the faith that these will support your weight, you'll be able to use it with confidence. The best way to work your abs is to give equal attention to all of the different areas, the upper, lower, and obliques. This way you'll have a well-formed abdominal area and you'll avoid having well defined upper abs but under-defined lower abs, which can often result from relying on crunches alone.
Final Perfect Pull Up Straps Review
Perfect Pull Up Straps get our Thumbs Up. There's not a lot of bells and whistles to them, they've got a basic design and function like you'd expect them to. If you've ever seen these sort of suspension kits at the gym, but were too afraid to try them out with everyone watching, this is a great way to get the same sort of workout but in the comfort and privacy of your home.
Our Recommendation
We recommend getting these because there are few pieces of ab equipment out there that can replicate the kind of exercises they do. In fact, most of what's out there will have you doing some form of a crunch, which is a great ab workout but limited in its ability to engage the entire core muscle group. What these suspended exercises will do is give you more of the look you're going for, getting all 6 muscles in a six pack, but also getting those other 2 if you want to get the elusive eight pack, not to mention your obliques.
What do you think? Do Perfect Pull Up Straps work or not?