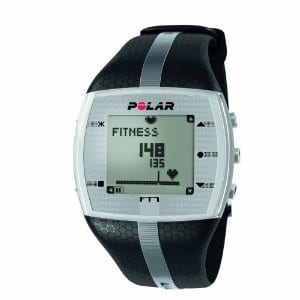 Heart rate monitors are cool enough, but the Polar FT7 takes things to the next level. Basically, it's like having the readout of a treadmill on your wrist, including a wrap-up of what you've accomplished once you're finished. If you've never used a heart rate monitor to maximize your workout, or keep track of what heart rate zone you're in, you've been missing out. And if you're already familiar with them, you might be due for an upgrade. So let's find out what makes this one so special, and whether or not you should buy it.
Overview
Depending on what kind of aerobic exercise you're trying to do, there are certain heart rates that you will be targeting. For example, if you are looking to do the classic cardio routine, you want to go for a long duration with your heart rate at an elevated level, but not too high. If you're doing something like HIIT, high-intensity interval training, you'll want to spend the extra effort to keep an eye on your heart rate to make sure that you are getting the most out of this method. If you are training for a marathon or a triathlon, a heart rate monitor is a must–have item.
The Claim
The Polar FT7 claims that it can tell you how many calories you burn during your workout, and can also steer you towards better results by letting you know if you are burning fat, or simply working on your fitness. They also state that in conjunction with their website you can calculate when you need to take an off day for rest, or when you should be pushing it. Of course it can do all of the basic things that most every heart rate monitor can do, including giving you a real-time look at what you're heart rate is doing. This alone can provide valuable information in the moment.
The Hype
Polar has been making heart rate monitors for several years now, and so they don't really need lots of hype in order to make their sale. They pretty much just focus on the features and benefits, as well as their long track record of success in the industry, and let the products speak for themselves.
The Cost
Polar FT7 is around $75 on Amazon, and comes in a few different styles and colors for men and women. You'll notice that comes with a chest strap so that you can get an accurate reading of your heart rate. When you compare it to some of the other heart rate monitors that are simply worn on your wrist, the accuracy is usually better because it's getting a better signal from your heart.
The Commitment
If you've never used one of these before, you'll have to get into the habit of putting it on before you start your workout. This usually only takes a few times before it becomes second nature. The benefits of using it are so great, you won't forget very often. After a couple of times using it you'll wonder how you ever got on without it.
Evaluation
The Polar FT7 has gotten a lot of praise from those that have used it. It's interesting to note that even those that have used several heart rate monitors before this one said that the performance on this is great. Some of the features to receive praise are the comfort of the chest, the ease of use, and the way they make this technologically advanced, but still easy enough to use and understand.
By syncing this this data up using website, you are able to visually see the progress you're making. This makes a big difference when it comes time to get motivated to do another workout. In the back of your mind, or maybe even in the front of it, you will know that you are putting another notch on your chart, and getting more data to analyze. It's OK to get nerdy with your health, because knowing that you are being more effective will actually get you to exercise more, since you know you're not wasting any time.
Final Polar FT7 Review
The Polar FT7 is a solid piece of exercise equipment, and it's getting our Thumbs Up review. It makes a great addition to almost any workout program you could start, and makes a good upgrade if you're using a model that is not so sophisticated. The nice part is you can decide how far down the rabbit hole you want to go. If you just want to use this as an accurate way to find out which heart rate zone you're in, it works great for that. However if you want to get down to the nitty-gritty details, it provides those as well.
Our Recommendation
We definitely recommend starting to use a heart rate monitor if you currently don't. It makes workouts a lot more enjoyable, and potentially much more effective. If you do decide to start using one, this model by Polar is a pretty good place to start. You can get less expensive models, but they won't have as many features as this does, and you might find that you outgrow it soon. At this price point, this is a handy gadget that will be of great value to you and provide proof that you are actually accomplishing something with your workouts.

What do you think? Does Polar FT7 work or not?