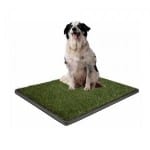 Taking the dog outside every time they have to go can be a real hassle, and the promise of Potty Patch is to end all of that. If you live in the city and have an indoor dog, it can be quite hard to get them trained to only go outside. The theory here is to bring a bit of the outside in so that they can go naturally and you can clean it up when you can.
Overview
It can be hard having a dog. They are not low maintenance like a cat. They require a lot of attention and need to be walked and played with and taken out when nature calls. But they are such good companions that many people try to make a dog fit into their busy lifestyle. Only too late do they realize that things aren't quite working, and by that time they've already formed a bond. The Potty Patch has good intentions, but unfortunately this isn't enough for a successful product.
The Claim
The makers of Potty Patch claim that your dog will be able to use it as if they were actually outside, since it resembles the look and feel of real grass.
They give an example of an owner that has to have their carpets regularly cleaned by a professional as a way to justify buying a Potty Patch.
They claim that it due to their three tier system the mess drips down to the lower bin and you can just empty it at your convenience without worrying about the smell.
They also bring up the example of someone who leaves their dog home all day while they are at work, only to come home to find an accident every day. By using the patch it is said that this worry will be a thing of the past. In the same vein they mention people that live in apartments and offer Potty Patch as the solution to having your dog go outside.
The Hype
When they show a dog "relieving itself" on the Potty Patch, it is actually just sitting on it. This should be the first clue that this product is entirely over-hyped, as they couldn't even get a documented use of a dog peeing on it.
The Cost
You can order Potty Patch from Petco through Amazon for $40 delivered to your door and this will let you bypass the scam they have going at the official ordering channels. Apparently when consumers would try to order by phone they were automatically enrolled for special offers and programs that would be billed to their credit card unknowingly. Avoid the whole hassle and order from a valid website.
The Commitment
Once you receive your Potty Patch it's your responsibility to get your dog to actually use it. Real owners have shown footage of their dogs barking at the patch, chewing on it, and sitting on it, but rarely are they able to get them to use it the way it is intended. You have to be patient and have an obedient dog if you plan on getting any use out of this product.
Footage of an Actual Dog Reacting to the Potty Patch

Evaluation
Dogs aren't cats. They like to roam around outside and do their business where it seems most natural for them. They don't like having accidents around the house, and even though it seems like they are doing it to upset you, no one is more upset than your dog at having to go inside.
Final Potty Patch Review
The Potty Patch has several inherent flaws. The size is too small, even for smaller breeds of dogs. Many people who purchased the unit complained that their small dog had trouble just getting onto it, let alone using it to go to the bathroom on. Larger breed dogs would simply laugh at it if they could.
The other flaw is that if they do end up using it, the clean up process is not as simple as the infomercial would have you believe. You'll want to spray out the entire unit, and not just empty the bottom tier, as is advised on the ad spot. If you don't you'll have residual odors left from the top tier and it will be worse-smelling than if they would pee on the carpet.
Our Recommendation
Based on user feedback and the fact that your dog deserves to relieve themselves outside, regardless of how inconvenient it may be for you as the owner, you should not buy the Potty Patch. It is too small, dogs don't like using it and can't figure out what it's for, it doesn't mask smells the way it says it does, and if they poop on it the mess is much harder to clean than if they simply did it on the floor.
What do you think? Does Potty Patch work or not?