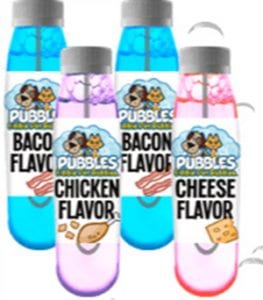 As dog lovers most of us like anything that is going to make them happy and entice them to exercise a bit more, especially for the lazy ones. Pubbles may be the perfect dog and owner interactive product to use for a variety of reasons.
Overview
Pubbles is edible bubbles for dogs that come in four different flavors. These are bacon, tuna, chicken and cheese. What makes these really interesting is that the bubbles won't pop when they hit the ground, which if they did then no doubt this would make your pet somewhat unhappy.
The Claim
The company claims that the bubbles produced are safe and all have yummy flavors. They air dry and then land on the ground. That is if your doggie hasn't captured them in mid air. They are low calorie and can be used for cats as well. Also, no problem if you want to use them indoors.
The Hype
The images on the promo site creates all the hype that is needed. Just seeing these pets having so much fun with the bubble activity that Pubbles makes, it clearly shows how it would entice the pets to be more active. It certainly has the ability to reduce some of the boredom that our dogs and cats may have.
The Cost
You will have to pay $7.95 plus $4.95 shipping to receive two bottles of Pubbles. If you add an extra $4.95 to your order you will get two extra bottles.
The Commitment
As pet owners we really don't have to be coerced into spending time with our cats and dogs. Our biggest problem is how to keep them entertained. Yes, we can take them for walks and throw balls for them, but now we can extend the fun time with the Pubbles, and not over exert them.
Evaluation
Anything that is safe and fun for our pets we tend to like. It is likely once the pets got used to the bubbles most of them will love the interaction with the family members as well as these unique treats. For those pets that are hard to peak their interest, perhaps the scent of the bubbles will do that job for you.
Final Pubbles Review
We're going to give the Pubbles a Thumbs Up rating. Most of us who own pets do buy treats for them on a regular basis. Being able to combine fun, activity and a treat is a great combination. They have a kitty pack and a doggie pack. It looks like the only difference is the flavors, which may be more appealing to the specific pet.
Our Recommendation
No doubt if you decide to purchase the Pubbles you are going to be anxious to use them frequently. Remember as with anything that stimulates your pet there has to be time limits. You don't want to tire your pet out, so plan a little time each day for some Pubble bubbles fun. We are always on the look out for great pet products. If you are intent on purchasing new pet items on a regular basis, then you may want to check out Bark Box. This is a form of membership where you receive a box of pet goodies each month.
What do you think? Does Pubbles work or not?
[kkstarratings_custom_footer]