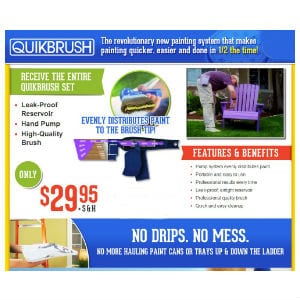 The QuikBrush is a painting system that is like having a paint brush that you don't have to keep dipping into the paint. That's because it is designed to pump the paint right into the brush, and right where you need it. But how well does this sort of setup work in real life?
Overview
Painting the old fashioned way can be a real chore, with paint getting everywhere and having to continually re-dip your paintbrush so that you can continue. But until recently there weren't a lot of options to get you around having to use these kinds of brushes.
The Claim
The makers of the QuikBrush say that you can be done in half the time because their brush makes it quicker and easier than using a conventional paint brush. They claim that it has a pump system which helps to distribute the paint evenly across the brush, and that it's all portable, so you're not tethered or limited by a hose. They say you end up with professional results when you're finished. The reason it works so well, they say, is because it's made of a leak-proof material and it's airtight, so you get a nice smooth supply of paint right where it's supposed to go. They further claim that it's quick and easy to clean this up.
The Hype
There isn't really much hype here if you've ever done a painting job with an ordinary paint brush. You'll be able to confirm just what a problem it is to get the job done, and how there needs to be improvements made to the way people have been painting for decades. The real question is whether or not this brush system pulls it off or not.
The Cost
The QuikBrush is $38 which includes shipping. When you size this up to other automated paint kits, like the kind that give you a paint sprayer instead of a roller or a brush, you see that this is a pretty reasonable price. Take for example the Paint Zoom paint system, It goes for $60 and doesn't get very good reviews.
The Commitment
This should reduce the amount of time you spend painting, and can make it so you can reach places you otherwise wouldn't be able to reach. It also means you'll spend less time cleaning things up when you're done because all you have to do is run water through it and the same pump that pumps the paint through will pump the water through and it's all cleaned up.
Evaluation
The QuikBrush people say that you can use this on an assortment of projects like fences, decks, patio furniture, as well as tricky things like baseboards and crown molding. They say all you have to do is give the handle a squeeze and the paint goes right to the end of the brush so you don't have to keep dipping it again and again while you tackle the project. Consider for a moment that professional paint crews do not use traditional painting equipment, and they have tools that make the process more automated so they can get in, get it painted, and be on to the next job in a fraction of the time. They may not be using something like the Quick Brush, but the point is they are not doing it the old fashioned way.
That's why you need to come to a decision on how you will do your next painting project. Are you going to use the same rollers and paint brushes that have been around for so long and have so many inherent problems, or are you going to try a new and more advanced system and see how it performs? At this price point it seems like a pretty good product to try if you have a big painting job coming up and the thought of using rollers and normal paint brushes is just too overwhelming. It could turn out that this helps you get the spots that are harder to get with those tools, or it may be that you end up doing both the hard and the easy parts all with same powered brush.
Final QuikBrush Review
The QuikBrush is getting our Solid Try rating based on the amount of positive feedback it has received, and the innovative way they're putting the paint right on the end of the brush so you can just keep painting instead of stopping ever few seconds to get more paint. If you've ever taken part in a seemingly never-ending painting job you'll appreciate the value it brings.
Our Recommendation
This is a good tool to have on hand if you find that you are painting rooms on a regular basis, or if you have a big room that you want to paint, or if you have a lot of items around your house that need painting, and you've been putting them off for a long time.
What do you think? Does the QuikBrush work or not?