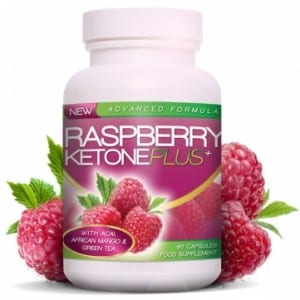 Raspberry Ketone Plus are one of several raspberry ketones products to come on the market. They say that you can lose weight naturally, because everything in their capsules is all-natural and been shown to work for weight loss. We're always interested in any all-natural pill that claims to assist with weight loss, so we had to take a closer look at whether this is the real deal.
Overview
You may be familiar with raspberry ketones because they were featured prominently on the Dr. Oz show. This prompted a mini-craze for them because he didn't specifically come out and endorse a specific brand, he just showcased a group of bottles. As it turns out Raspberry Ketones Plus was one of the bottles that made it onto the program. He said that raspberry ketones trick your body into thinking it is thin, and that way you process and digest your foods like a thin person does. Sounds promising.
The Claim
Raspberry Ketone Plus claims that you can lose weight with 8 different ingredients working together. They don't settle for just raspberry ketones alone, they've added other superfoods including African mango and acai berry. There's even Resveratrol in it for good measure. But the level of raspberry ketones has not been compromised, and you still get the 100mg that was suggested by Dr. Oz.
They also claim that their product was seen on FOX News, and is made with high quality ingredients. And since a lot of shady sites have popped up since the mania started, they assure that their website is safe and secure and that there are no troubles with the ordering process.
The Hype
Dr. Oz provided all the hype needed by featuring these on his show and not coming forth with a number one recommendation. It sent people scurrying to find which one he was talking about. We still aren't sure which exact product he had in mind, and maybe it doesn't exist, but there are a few that seem to come close. We think that Plus checks off a lot of the boxes that he mentioned on the program, and ranks up there for a definite trial.
The Cost
A 60 pill supply of Raspberry Ketone Plus is $31 and would last you 30 days if you take two pills a day, as suggested on the label. These aren't the price point on the mystery product alluded to by Dr. Oz on his show. He said you could get raspberry ketones for $13, but that is not exactly true, you can get low quality ones for that price. In fact all of the raspberry ketone products we've evaluated have had higher price points, and you don't really want to go bargain basement on something that is supposed to be all natural, and will be going into your body, potentially for the long term.
The Commitment
There isn't much you have to do other than take the pills. Of course, it's always best to eat right and work out in conjunction with taking any weight loss pill, even all natural ones like these. You don't have to go hard out, you can just make a few changes in your diet, and start getting a little more active. The pills will provide the tipping point so that even minor changes will produce favorable results.
Evaluation
Raspberry Ketone Plus really lives up to the Plus part of their name. They started off with the recommended dosage of raspberry ketones, and then added African mango, a somewhat rare superfruit that has shown to have weight loss benefits on its own. They then put in acai berry, which whether or not it provides weight loss effects has been debated, what hasn't been debated is the anti-oxidants it contains. So you're not only getting the weight loss benefits of the raspberry ketones and African mango, but you're also getting healthy things for the body.
They've also added green tea extract, which the EGCG found in that has been linked to weight loss, as well as helping prevent cancer. There is also Resveratrol, which is debatable as to what sort of benefit it has for the body, but some believe it is another powerful antioxidant, the same kind found in red wine, which is why doctors say to drink a glass each day. It's an interesting mix of ingredients, to say the least. It's definitely worth a try, seeing how each ingredient taken separately would be a hassle, and added expense.
Final Raspberry Ketone Plus Review
Going with Raspberry Ketone Plus is a good choice among the different raspberry ketone products out there. The reason is that they've started off with the ketones as a base, and then added other ingredients to supercharge the concoction. But the number one ingredient still remains raspberry ketones, and the other ingredients are only a fraction of what the raspberry ketones are. This is one of our favorite raspberry ketones supplements of 2012 and comes highly recommended from users that have used it.
What do you think? Does Raspberry Ketone Plus work or not?