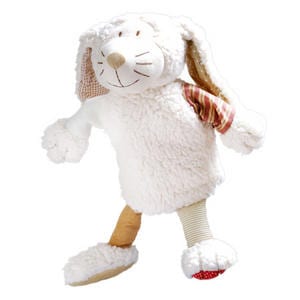 You might not be able to figure out what Cuddle Uppets are until you've seen them. It's basically a combination of a warm blanket and a cuddly puppet. Kids are supposedly going gaga over this creative invention and parents all around the U.S. are scavenging around to try and find one. Whoever thought of this must be a genius. What better way to get your children more excited for bed? A toy blanket is not something you see every day.
Overview
If you are a parent, you know all too well that putting your kid to sleep is a nightmare. They kick and scream continuously until you finally give in and allow them to stay up. Being firm about your decision is a basic skill in good parenting, but when you have youngsters whining profusely, you will do anything to get them to stop. What would the neighbours think? Children could care less if their parents were on their hands and knees begging them to sleep and that's because they'll sleep when they absolutely want to. What Cuddle Uppets do is introduce consistency to a bedtime routine, so your child will automatically know when it's time to start getting ready for bed.
The Claim
Upon checking the official website for Cuddle Uppets, you'll notice that the advertisements seem to be pretty direct. After all, it is just a blanket with a puppet's head attached to it. If you haven't already noticed, the target market is the toddler who is possibly drawing on the walls of your living room at this very moment. What the company seems like it's trying to achieve is to provide a lovable companion for kids during the day, and a great blanket to snuggle up with during the night.
The Cost
Being that this children's blanket can also pass for a toy, the price seems to be fairly appropriate, selling for about $20. Each additional Cuddle Uppet you purchase, you can get for $17. Shipping and handling is not covered, therefore you will have to pay an additional $9 plus another $6 if you plan on ordering an additional one.
The Commitment
Call it cheesy if you will, but the only commitment that is going to be made after purchasing Cuddle Uppets is the friendship between your child and their newfound friend.
Evaluation
Cuddle Uppets come in a variety of animal characters. You or your kids can choose from any of the following: a pink poodle, a purple monkey, a green crocodile, a blue elephant, a yellow puppy or a brown bear. Having such a variety of animals is great for children, as they are given the option to pick out which ones they like, or you can surprise them if you already know their favorite animal.
Kids seem to be enjoying the company of their Cuddle Uppets. It's unconsciously the perfect way to get your child or children to socialize with each other, and other kids by role playing. This product will even get your children's creativity stirring and can be a fun way to educate your child. Instead of you having to read a book for a bed time story, you can create a personal storyline with the Cuddle Uppets. You can be sure that it will be a tale your child will never forget.
Generally, Cuddle Uppets are safe and great to have around for your child, however there is one flaw that we found regarding this product. Blankets are meant to stay in the bedroom and not be dragged around everywhere your child goes. Because it is also a toy, you can expect for it to garner tons of germs and bacteria, as well as dirt and grime over time. Any parent wouldn't want their child to be tucked in with a blanket that filthy, so a few throws into the laundry several times a week may be required. This might cause the blanket to wear out and possibly get damaged after a while.
The size of the blanket may also be a problem for children who are a little bigger, but still want to keep their Cuddle Uppets around. Sadly, it only comes in one size and that is 28" x 39". It might end up being just a toy for a few months instead of long-term. That's kind of the fate of most toys though, they run the risk of getting left behind as kids grow older, as is documented in the Toy Story trilogy.
Final Cuddle Uppets Review
Cuddle Uppets receives our Thumbs Up rating as a great blanket and toy for young kids. If your child isn't satisfied, you can actually return the product within 30 days and receive your money back. You know how kids are, you'll know if they like it or not in the first day, so that's plenty of time to be able to figure out if it's something you want to keep. The toy market is a crowded one, and several companies are jockeying for your toy budget, so be sure to choose wisely.
Our Recommendation
A blanket and toy all rolled into one? Go for it. You and your kid probably won't regret it, and at this price point it's a pretty good quality toy with a dual purpose. If it turns out it's something they enjoy you'll be happy you went ahead with it, and if they forget about it within the first month, it's easy enough to return it and no harm done.
What do you think? Do Cuddle Uppets work or not?