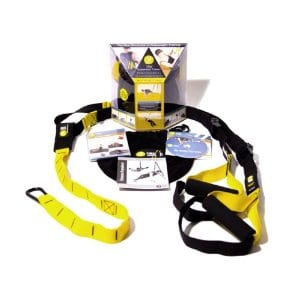 TRX Suspension Training is an exercise that takes advantage of your own bodyweight and uses it to strengthen and build your muscles with the application of its portable tools. It was developed in the Navy SEALs and has been around for more than seven years. The routine is now being used in other practices such as physical therapy for rehabilitating wounded patients and in other venues like the gym as a regular workout session for those who want to get a full body workout. Although the use of the product has branched out, the question is, does it really work?
Overview
Not only does keeping your body physically fit and toned make yourself appealing to others, but it also keeps you energetic and healthy. Integrating at least 30 minutes of exercise in a day is recommended by doctors as well as nutrition experts if you want to improve your overall lifestyle. One important exercise that shouldn't be overlooked is weight training.
This particular workout session helps form muscles, therefore building up your physical strength. It is also a great way to incorporate extra cardio during your activities to burn away any excess fat. The only problem with weight training is that it can be a bit time consuming and all the proper equipment needed for the workout might not be available to you.
The Claim
Each kit comes with a DVD and program on how to use the TRX Suspension Training gear. By following the given curriculum, you will be able to build lean muscles, boost your metabolism and increase endurance all in the comfort of your own home. They say that suspension training uses your own body weight as the resistance so that you don't need a bunch of heavy equipment to lug all around when you're on the go.
The Cost
TRX Suspension Training offers an array of training kits suited for different individuals. For those who are trying resistance training for the first time, the TRX Pro Kit sells for about $200. More serious customers may get the TRX Training Bundle for $300 whose original price was $389.90. A military-combat-like workout is available for the more advanced. This particular package is available to for $246. They also have bundles selling a little over $1,000.
They all come with free shipping, as their offer is valid on orders over $65.
The Commitment
One reason why people do not see results is because they do not stay committed. A great deal of dedication is required if you want to lose the weight and/or build muscle through the TRX Suspension Training. There is no specific timeframe or schedule you must follow because it is a routine you must learn to incorporate as a daily agenda. The more often you do it, the sooner you'll notice results. They do offer a 12 week program, but it only comes with the TRX Force Kit.
Evaluation
Overall, the TRX Suspension Training tools are easy to use because of its mobility. You can take it around with you anywhere without any hassle. Setting up shop is easy as you don't require any apparatus other than the equipment available in the package. Resistance training has been proven effective in strengthening muscles, therefore we know this product works, however based on consumer information the product isn't durable.
There have been quite a number of customers who've complained that their equipment broke and was not being replaced under warranty by the company. Others have had better luck and even out of warranty, were able to have their equipment replaced for free. So it's a mixed bag really, as far as getting a replacement if it breaks down during use, since there are reports on both sides saying completely opposite things.
Another downside to TRX Suspension Training is that it is not for everyone. By this, we mean that if you haven't endured physical activity in a while, trying this program out may be too strenuous to your body and even cause injury. Because you will be required to perform certain stances, it might not be suitable for some.
At this price point it you should be getting a product without any flaws. You shouldn't have to make excuses for it, or put up with things that aren't quite right with it. If you're going to spend this kind of money you should be ecstatic with it.
Final TRX Suspension Training Review
If you are somewhat active and can still carry out certain movements, TRX Suspension Training can work for you, however we don't recommend this program for those who haven't worked out in a while and for the seniors out there who are already going through other health complications such as arthritis. This gets our Thumbs Sideways review, meaning you can give it a go if it still appeals to you, or you can pass on it if you still have your doubts.
Our Recommendation
TRX Suspension Training is a great product, but isn't worth all that the money. At this price point you can get a better product, or put it towards a gym membership and be able to use real exercise equipment. Some of the movements are really great with it, but other movements are awkward, or complicated, and can't really be done by novices. There will be a learning curve for just about anyone that uses this, as it takes some getting used to.
What do you think? Does TRX Suspension Training work or not?