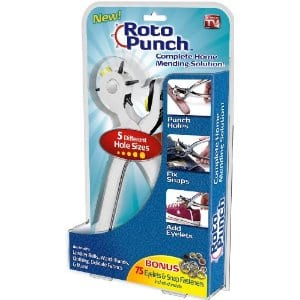 Roto Punch is one of those products that you probably won't use every day, but is nice to have handy when the situation presents itself. It basically has a simple use, it punches holes in things such as belts, purses, shoes, and anything else you can think of. It also adds eyelets to clothes like shirts and pants.
Overview
This is brought to you by the same company that brought you Trendy Top, as well as a host of other products. They are known for making the kinds of As Seen on TV products that actually work and aren't just gimmicks. This is one simple idea and a simple product, which is typically the products that actually do work. The less complicated a product is the higher the likelihood that it will perform correctly. But let's see how it sizes up.
The Claim
The makers of Roto Punch say that this is a complete home mending solution, but it doesn't sew anything so what they should say is that it could be part of your mending kit. They also claim that it can punch holes in even very thick leather, but also is delicate enough to use on light fabrics that could tear if you're not careful.
Some examples that the give for how you would use your Roto Punch is that you could replace a snap that has broken on any piece of clothing, or you could use it to add custom styles to your clothes, although that one seems to be pushing it a bit. They also say that it could be used to repair a pair of shoes, or make repairs to your outdoor gear like tents, backpacks, and more.
The Hype
The hype comes from the fact that this is a very seldom-used product, but they're trying to make it seem like it would enter into your daily routine somehow. The fact is you probably have one or two ideas of how you would use it, and then it will be relegated to the junk drawer until you have the need for it again.
The Cost
The Roto Punch Mending Solution is sold with one of those forced buy one get one free just pay shipping offers, so you'll end up getting 2 of them for $26 delivered to your door. That makes it just $13 for each one, and perhaps you could gift one of them because you really don't need two of them. You do end up getting 300 eyelets and snaps so you should be well-stocked and able to use the Roto Punch indefinitely.
The Commitment
This is shown as being very easy to use, and you don't even have to press very firmly in order to get it to work. Once you make the repair it should last and last so there isn't too much commitment to using this.
Evaluation
This beats having to go out and get a new belt or a new pair of shoes if they can be fixed with it. It can be a cost effective way to get more use out of things before sending them to the trash. You can
All of the complaints about Roto Punch revolve around the ordering process where people didn't realize it was a 2 for 1 offer. Many people said that they tried to order one, but received and were charged for two. Those that order 2 end up getting a total of 4 tools and get charged $52. It can be confusing not knowing whether or not you're ordering one or multiple sets, because it's a forced "offer". Aside from this the actual tool has gotten good reviews and does punch holes and make eyelets.
It's strange that these companies make the ordering process so vague, and allow a situation like this to occur. If they would just make it very clear what you're getting, and how much you'll be charged, they wouldn't have to deal with dozens and dozens of people complaining about them and calling them a scam. Surely, all of the credit card charges that were erroneous were fixed, but it's just unfortunate that a product that works gets marred by a confusing order page.
Final Roto Punch Review
Functionally speaking, the Roto Punch works as described. The only question now is whether or not it's worth getting. If you've run the numbers and it makes economic sense to get it then go for it. But if the items you're repairing cost less than the Roto Punch you should just go out and get a new belt or a new watch band.
Our Recommendation
The Roto Punch is good to have around, when you need it. When you have it on hand, you'll probably come up with other ways to use it, or find more clothes or accessories that need what it does. We recommend picking one up if you can think of 2 or 3 things that need fixing. Otherwise, you can live without it.
What do you think? Does Roto Punch work or not?