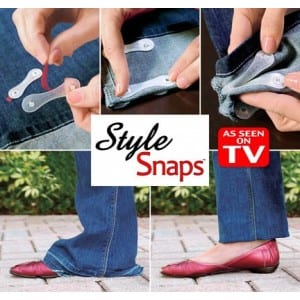 Style Snaps promise to be able to give you a perfect hem in just a few minutes, rather than breaking out the sewing machine, or cuffing them. The way they propose this is by using plastic snaps stuck to the inside of your pant leg with a reusable adhesive. If hems are something that you're fed up with, you're probably on the fence as to the effectiveness of this system.
Overview
Style Snaps are made by the same company that makes Trendy Top, so we came into this review with an open mind, since Trendy Top is a product we liked and rated highly. As soon as we saw what Style Snaps were about though, we quickly had our doubts and wondered if a product like this could actually work as it's shown to on the infomercial.
The Claim
They claim that there is no sewing, no ironing, and no gluing involved. All you have to do is peel the backing off of the plastic snap, stick it to your pants where you want the hem to be, and then snap the two sides together, which pulls your pant bottom up, creating the desired effect. They also say that they use a special adhesive that lets you adjust, remove and reapply, and that is safe to use on fabrics.
They say that with their system you can change your hem just as often as you change your shoes, because with varying shoe heights it makes it hard to keep your pants from hitting the ground. For example, if you change from heels to pumps you're going to need to change the hem of your pants, and sometimes you're going to want no hem at all, if you're wearing tall enough heels.
The Hype
The hype is that most of us have come up with a fix or a workaround for hemming our pants, either cuffing them up or buying the right size. The entire pitch is all about creating enough value to get us to justify spending the money to hem our pants.
The Cost
For $26 you'll get double the amount of Style Snaps as you would normally get. This is because the offer is buy one get one free, just pay shipping offer, and that's how you get to $26 from $10. Confusion can arise during the ordering process if you don't realize that you're not just buying one set, even if the quantity says one. You're buying one double set, so don't be surprised when it arrives and there are two sets.
The Commitment
You have to commit to actually installing the Style Snaps, which is not quite as easy as they make it look in the infomercial. Let's be honest, things are never as easy as they are in the infomercial, nor is the situation as dire as they make it seem. Yes, hems are hard to put into pants and it can be annoying changing between shoes, but it's not the end of the world and we've managed to survive this long with our current methods.
Evaluation
Most times a company makes claims about a special adhesive, we cringe. It's true that we live in a Space Age sort of world nowadays, so it sounds like reusable adhesive is something we should have mastered by now, but we just haven't. That's why we were a bit skeptical about their claims of an amazing adhesive that can stay stuck on fabric for as long as you want it there, and then pull of the fabric and re-stick to a different fabric, without leaving a mark.
How would the adhesive know when it's supposed to stick and when it's supposed to come off? And how could it not leave a sticky residue behind that draws dirt and hair to it, essentially marring your clothes? The answer, as it turns out, is that it can't. Products like these are made overseas and for as little expense as possible, so this is far from an adhesive breakthrough, and likely the lowest cost adhesive they could find that somewhat does its job.
Final Style Snaps Review
The overwhelming majority of people say to save your money because Style Snaps don't work. They're getting our Thumbs Down review, based on the consensus that the adhesive is not reusable, and it doesn't even stick to clothing the way it should.
Our Recommendation
Pass on the Style Snaps. This is one they got wrong, and the adhesive is not as magical as they claim it is. As someone that can relate to this problem, I really wanted this product to work. I'm going on a personal mission to find a hem solution that actually works. I'll update this page with a link to our review of a product that can fix your pant leg problem once and for all.
What do you think? Does Style Snaps work or not?