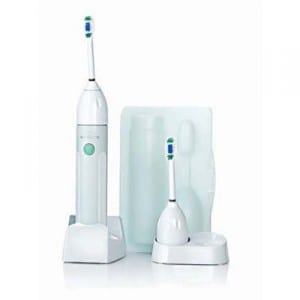 The Sonicare Toothbrush is supposed to reduce the amount of effort involved in brushing your teeth. If you're still brushing your teeth the old fashioned way, you've probably wondered what it would be like to go automatic and let your toothbrush do the work. The times are changing and eventually we'll all use electric toothbrushes and reminisce about days of yore when we actually had to move our wrists in order to brush our teeth. But is today that day for you?
Overview
It's easy to see the advantages of going with an electric toothbrush over an ordinary one, but can you get by with a simpler model, or do you need all of the bells and whistles that come with something like a Sonicare? There are relatively inexpensive models that bring an automatic brushing motion to the table, without making claims of using sonic technology. Is it worth taking the plunge and going with a product that is more expensive, but potentially provides more benefits?
The Claim
The claim is that it uses sonic vibrations to loosen the plaque from your teeth. Regardless if you buy into the hype of the sonic claim, it still rotates rather quickly and would be the equivalent of
The Hype
There isn't much hype surrounding the Sonicare line of toothbrushes, or other electric toothbrushes, because they've been around for so long. When they first came out there was a bit of buzz around them, and they were featured in movies where characters needed to look like they were early adopters when it came to new technology.
The Cost
Depending on which model you go with, a Sonicare toothbrush is going to set you back anywhere from around $30 all the way up to around $180. This wide range of price points means that there's a version for just about anyone, and they will all be improvements over your $3 conventional toothbrush you can pick up at any local supermarket or drug store. Also, the replacement heads are quite reasonably priced for all of the models, so after your initial cash outlay, it's relatively cheap to keep using it for the long term.
The Commitment
The Sonicare toothbrush should be a time savings when it comes to brushing your teeth. However, they stick to general rule of thumb of brushing your teeth for two minutes just like the conventional way. It seems that if you are doing a more effective job, you'd spend less time with it. So the only real commitment you have here is to replace your current toothbrush with your new Sonicare.
Evaluation
Having used a Sonicare firsthand, I have to say that it definitely works. After brushing, your teeth have that smoothness to them that you usually only feel after going to the dentist. Now whether that's because it's rotating at such a fast speed, or if there really is something to that whole sonic theory, it doesn't matter because your teeth will look and feel better than the do from normal brushing.
What People Are Saying
Almost every version of Sonicare has rave reviews. People really like it, and it seems to work. But really, when you think about it, how could it not. It's not really a surprise that a machine is able to do such a mundane task better than we can. It's not like we can rotate our wrist so many times per second as to match the speed of an automated machine. But it's not really a comparison between manual brushing and electric, it really boils down to how Sonicare stacks up to its competition.
Their major competitor is the Oral B line of electric toothbrushes. However, only one version of the Oral B line actually boasts a sonic ability and has a price tag over $200. The most expensive Sonicare models don't top $200 so they've got Oral B beat on price.
Final Sonicare Review
We give the Sonicare Toothbrush line of toothbrushes a Thumbs Up review. Reasons cited are that they've been in the game for a long time now, and are constantly coming out with new models that improve on previous versions. We always like when companies keep outdoing themselves. Also, at this price level, you'd be hard-pressed to find something that works better. No one can make the argument that manual brushing is superior, so it's just a matter of making the switch over to automatic, and start living the life.
You might want to double check with your dentist to see if they think it's a good idea, as they have full-knowledge of your dental history, including any filling, bridgework or other enhancements you've had done that might be affected by this sonic-level product. You can also get their professional opinion on whether Sonicare is something to buy or not, for your particular situation.
Our Recommendation
We recommend going with the DiamondCare version of Sonicare, because hey, if you're going to go electric you might as well do it right. This thing has a ton of features, and although it's priced pretty highly, there are replacement heads so you don't have to replace the entire unit every 6 months, just get new heads for it. Being a frequent traveler, I like that this comes with its own traveling case that lets you charge it up with a USB port. I've added it to my Wish List and will hopefully gift it to myself this Christmas.
What do you think? Do Sonicare toothbrushes work or not?