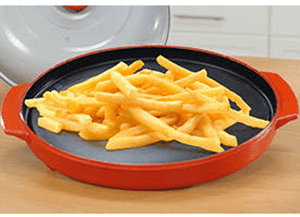 There are a lot of people that absolutely love their microwave. They will even put up with some of its weaknesses, like not being able to brown or crisp food. However, this may all be about to change if one uses the Reheatza Microwave Crisper, and provided it does all it says it will.
Overview
The Reheatza Microwave Crisper is a shallow microwavable pan with a dome. It is promoted as being able to crisp food and prevent it from turning out soggy.
The Claim
The promoters of Reheatza Microwave Crisper say that this pan has the ability to turn the microwave energy into conductive heat. Therefore its this type of heat that lends to crisping of foods.
The Hype
The hype about Reheatza Microwave Crisper is of course no more soggy limp food. That is of course if it really is able to accomplish this.
The Cost
The cost for the Reheatza Microwave Crisper is $39.99 plus $6.99 shipping and handling. With an additional payment of $6.99 you will get a second Reheatza Microwave Crisper free.As a bonus you also get a Clever Cutter.
The Commitment
Not much of a commitment with the Reheatza Microwave Crisper other than to use it. You might be more committed to microwave cooking if you get the desired results that are expected with this crisper.
Evaluation
There are so many different gadgets on the market that all promise to do something wonderful in the improvements of microwaved food. The Reheatza Microwave Crisper appears to be a fairly new product on the market. As yet it has not earned enough valid feedback to build its credibility or to expose its weaknesses. In respect to whether an item like this is really needed or not the answer to this is yes. On Amazon you are definitely going to find some similar products.Some are quite a bit cheaper to buy, but at the same time they are not getting above a three star rating. Although there are some others that are bit more pricey but have a better rating. So, in summary it is possible that these types of crispers work. We are leaning towards the Reheatza Microwave Crisper perhaps being a viable choice based on the claims that it can heat the same as what a 400 degree oven would do. Plus, it has a lid to help with the crisping process.
Final Reheatza Microwave Crisper Review
We are going to give the Reheatza Microwave Crisper a try/buy. Only because it is not established on the market as yet. Plus it is price comparable with those similar products that are proven to be fairly good. Then also we are a bit skeptical about some of the RV advertised products like this. Based on all of this we are going to reserve a thumbs up until more proof of its credibility is noted.
Our Recommendation
We have reviewed many different types of microwave products some of which have proven to meet the expectations others that have not.
What do you think? Does Reheatza Microwave Crisper work or not?