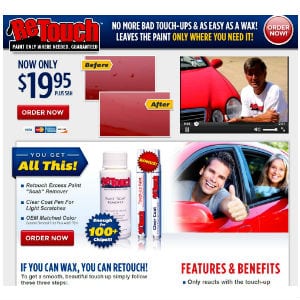 Retouch is meant to be used in conjunction with touch-up paint to make sure that you don't use too much of it, and so that the paint only goes where it's supposed to. But how well does it work to make your car look good as new?
Overview
Chips in the paint are the most common flaw when it comes to your car's overall appearance. This is because there are several things that can cause it, and simply driving your car down the highway exposes it to flying dirt and debris that can easily cause a chip in the paint. If you're constantly having your car's paint job fixed professionally it can really add up. That's why it's good to have your own system in place to handle it yourself.
The Claim
The main claim by the makers of retouch is that their kit includes everything you need to get a professional looking job done on your car, and to quickly take care of chips in the paint that would otherwise draw unwanted attention to your car.
The Hype
Telling consumers that they can save on the high cost of getting a service done by a professional is a sure way to build interest and make sales. It would be great if you could buy a product like this and not have to bring your car in to get touched up by a professional. The savings could really add up over time, which will attract frugal shoppers that want their car to look great but without the high costs.
The Cost
The Retouch system is $27 but there are two possible upsells, a clear coat pen that likely requires you to pay additional shipping and handling, as well as a color matched paint that also requires shipping. Be sure to double check your order total before pressing the final buy button.
The Commitment
Since you're trying to avoid having someone else do this for you, you're going to have to be the one that applies the paint and uses the product. This can take time and also there may be a difference in the way your car looks compared to having it done professionally. Also, when someone else does it they're responsible for the results. If it turns out bad they need to stand behind their work and make corrections until the job is done right. When you take matters into your own hand you are taking on the responsibility of a good outcome and need to see it through until it's done right.
Evaluation
The concept behind Retouch is a solid one, because often when you're using touch up paint on your car or boat you'll end up applying too much, which causes a bump to form because of the excessive paint. A bulbous bump on your car is just as noticeable as the chip you were trying to repair, so the process is really self defeating. By making it so you don't have to be very picky about how much paint you use, since Retouch will just come buy and make sure the paint is applied in the right amount, they've figured out a great addition to ordinary touch up paint.
This method allows you to use the right touch up paint that is color matched right to your car's factory paint finish. You can buy the touch up paint separately, and you don't need to buy it from the Retouch website if you don't want to. Shop around to find the best deal on the paint you need for your car. You'll just be getting retouch so that you make the process easier and more foolproof. That's really what you're buying here, a way to make it so you can't get it wrong.
Final Retouch Review
Retouch is getting our Solid Try rating, based on the feedback it has received from initial users, the concept of how it works, and the fact that we weren't able to find anything else on the market that is claiming to do exactly what this does. We've seen our share of paint touch up kits, and many of them are flops. This is one that isn't trying to reinvent the wheel, but instead trying to help existing products work better. That's a smart system, and seems to be providing good results.
Our Recommendation
When you get your kit be sure to read the instructions thoroughly. There are a few steps that are very important and will have a large bearing on how well your finished results come out. For starters it's important that you use a clean cotton cloth when using Retouch so that you don't end up scratching your paint. As long as you follow the instructions carefully you shouldn't have any problems and should get the results that others are reporting.
What do you think? Does Retouch work or not?