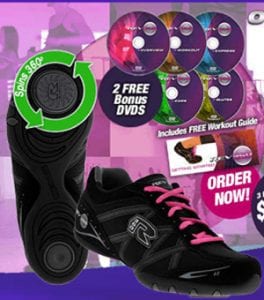 The REV360 is a combination of a unique pair of spin dance shoes and a CD to allow you the optimum workout through dancing. So can you dance your way to a new slimmer you?
Overview
This is an approach to yet another way to enhance your excise regime through dancing with a bit of a twist. Actually it is includes a bit of a spin. The patented design of the shoes that come with this program have a disc inserted into the sole of the shoes that allow you do a variety of spins easily and in a safer manner. It comes with an informative CD that walks your through the appropriate spin techniques which each have a fun name like Twist ITs, Rev Kicks, Pivot Press and Scorpion.
The Claim
According to the promoters of Rev360 you are going to enjoy a fun but challenging low impact session of exercise. They claim that you will get a good total body workout from the ground up with lots of freedom of motion. They state that you can even target your gluts.
The Hype
Feeding off the hype of exercise programs is easy done because there are so many of them on the market. It is a matter of focusing on the target words like total body work out, safe, and easy. The center of hype for the REV360 focuses on this being a dance method which is a form of exercise that a lot of people like to do because it is not boring, but with the design of the shoes it can be done in a safer way. They get to enjoy the music and at the same time get fit.
The Cost
You are looking at a cost of $115. which includes the shipping and handling. You will have the option of paying this in one lump sum or three equal payments. Included in your package is a pair of the Rev360 Spin shoes and the 3 DVD program, plus you will receive a bonus DVD for the core workout and another bonus DVD for the Glut workout. If you make the lump sum payment they will upgrade your order to priority shipping at no extra cost, so you can get your package faster. When you compare this program to similar ones you will find that there are tons of DVDs offering dance exercise. Some of these like the Zumba fitness programs also offer special shoes to help assist in the workouts, however they don't seem to be quite as unique as the ones provided in the Rev260.
The Commitment
You are going to have to first commit yourself to wanting to put the time aside to do the exercises. You may want to plan a fitness regime program for yourself based on what this product recommends. Then you will have to remember to wear the shoes during your sessions so you can get the most from what the program has to offer.
Evaluation
While there is nothing really unique in what the dance exercise in this program has to offer, the patented design of the disc in the shoes really makes sense. All too often an individual ends up straining themselves during an exercise routine especially when their body isn't used to this type of exercise. With the disc allowing for ease of movement this really addresses this problem. Plus when you look at the price of what a really good pair of standard exercise shoes costs then the Rev360 package is quite reasonable. In fact, you may want to use this system as a prelude to entering into the Rockin Body system which we fully reviewed and found to be quite worthwhile.
Final Rev360 Review
This system seems to be a great choice for the individual who really wants to buckle down and get themselves fit in a safer fashion. By having the unique shoes that come with this program to make it easier on your body it could possibly mean less delays in following through with your exercise regime because of strains or twists. The price is reasonable and dance exercise is one of the more enjoyable and less boring forms of exercise that many people can participate in.
Our Recommendation
We're going to give the Rev360 a thumbs up even though its so new there is no real reviews on the product as yet. It is based on a solid concept that dance is good for you, it is more interesting, and with the design of these shoes could certainly reduce the risk of beginner exercise injury. Then we also recommend that you may want to follow up this program by getting the Rocking Body exercise program to really step your exercise up a notch, when you are ready for the next challenge.
What do you think? Does Rev360 work or not?