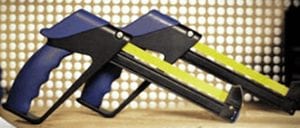 The Rocket Saw is a lightweight hand held saw that is able to get into tight spots and will cut materials such as metal, rubber, wood or plastic. The question is does it work and how long will it last?
Overview
This product is designed to get the job done fast with as little effort as possible. It really addresses the problem of getting at hard to get at places where this type of job is the tool of choice. The design of the product is what gives it its effectiveness by the blade being super thin and long.
The Claim
The Company claims that with their unique design of the blade that it will go where other saws can't. They also say that it can cut through a variety of materials such as plastic, metal or rubber, and there is no blade change necessary to do this. They state that it has a spring load action which makes it easy to use for anyone.
The Hype
They hype focuses on all the buzz words that would attract attention to this type of product. These are easy to use, can get at difficult places, and cuts a variety of different mediums. Added to this is their focus on the finished results the product produces which is a clean and accurate cut.
The Cost
When you look at all the claims and hype for this product it makes the total cost of $24. which includes the shipping and handling plus a bonus of a second saw amazing.
The Commitment
First you are going to have to have the faith in the Rocket Saw that its really going to work for you otherwise you are liable to just resort back to your old type saw. You may not be putting the item to work as soon as it arrives, so make sure you put it with your easy to see tools so you don't forget about it when a job arises that it will be perfect for.
Evaluation
Looking at everything that this saw is supposed to be capable of doing makes it really appealing. One of the biggest complaints about standard hand saws is that they are cumbersome and not appropriate for small places. Now there are similar sized hand saws like the Milwaukee Compact Hack Saw, but you are looking at blade changes here, which doesn't appear to be necessary with the Rocket Saw.
Final Rocket Saw Review
We're going to give the Rocket Saw a solid Try/Buy. The only thing holding us back from a thumbs up review is that there is no indication that you can buy a replacement blade if necessary. This could mean that if something were to happen to the original blade then the product would be useless for future use.
Our Recommendation
If you figure you would only need to use this type of tool on occasion then it probably would be a good buy, as you certainly can't beat the price. It also would be an ideal present if you were looking for a gift that was reasonably priced and offered good value. If you are looking for a saw that has more heavy duty power to it because it is something that you use frequently then you may want to check out our review on the Omni Dual Saw.
What do you think? Does The Rocket Saw work or not?