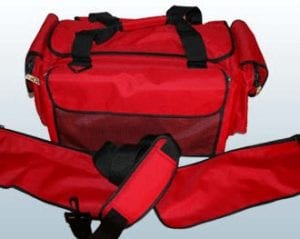 The Super Cool Bag is actually 3 bags in one and is applicable for both hot and cold items. The question is does it keep the cold items cold and the hot items hot?
Overview
This 3 bag in one carry all bag is meant to be versatile in what it can be used to carry a whole array of items. It is ideal for the fisherman who wants to carry both hot and cold items on his fishing trip or is ideal for carrying electronic or a selection of on the go items.
The Claim
The Company is claiming that this bag is unique because of its versatility. It is promoted as being ideal to be used as a cooler or for dry storage items and it is said that it works well as carry on luggage for trips. The Company claims that it is lightweight yet durable and has a quality waterproof lining.
The Hype
Almost every household has a bag similar to this so in order to make the Soft Super Cooler unique the hype is being based around its versatility for hot and cold items, while at the same time being lightweight and easy to carry. It has sweetened the deal with the additional 2 bags that fit nicely inside of it.
The Cost
This product comes in two sizes. For the deluxe large the cost is $100. which includes the shipping, while the smaller version is $90 including the shipping. The product includes a sturdy shoulder strap.There is also a lifetime warranty.
The Commitment
While it really is great to have a product such as this it means that you have to be diligent in putting it to good use. Packing it away in the cupboard isn't going to give you much value for your money. Also learning about all the features and the proper way to store the various items in the bag will provide you with even greater benefits.
Evaluation
While there are lot of bags on the market like the Ensign Peak Large Insulated Cooler Bag at Amazon designed to do some of the various jobs that the Soft Super Cooler does its difficult to find one that really has all the benefits and features that this one does.
Final Soft Super Cooler Review
With everything that this bag has to offer and the quality that it is made with, plus the high consumer interest in all of these we are giving this product our thumbs up rating. A product that would be somewhat in the same category as this would be the Smart Cart which we have reviewed in the past. With this one we felt that its usability would be limited to a smaller number of people.
Our Recommendation
Overall this bag really is full of functionality and should appeal to a great number of people in varying age groups. It is ideal for family use or for each individual family member. Its versatility in being able to accommodate both hot and cold items makes it appealing. For those that carry a lot of electronics and want to do so in a safer manner then this Soft Super Cooler seems to be the answer.
Official Website: Soft Super Cooler
What do you think? Does Soft Super Cooler work or not?